"Broaden your horizons. Open different doors. You may find a you there that you never knew was yours," sang first-year Musical Theatre major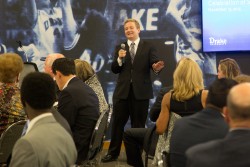 Jackson Kealy. The Noyce siblings, Jim Noyce, BN'78; Ken Noyce, BN'80, GR'84; and Carol Molino, BN'85; were seated nearby at the best table in the house. "Go and chase your dreams, you won't regret it. Anything can happen if you let it."
Performing a number from Broadway's Mary Poppins, the 2015–2016 Noyce Alumni Scholar thanked the grown children of benefactors Patricia and Richard Noyce at the seventh Annual Scholarship Luncheon, where donors were honored with a meal shared with the students who benefit from their generosity. More than 140 donors, students, faculty, and staff attended the celebration held at the Courtside Club inside The Shivers Basketball Practice Facility.
"I picked 'Anything Can Happen' because I felt it encapsulated the possibilities that have been opened up to me," said Kealy. "Drake is my dream school, and it is only possible for me to attend because of the Noyce family's generous support.
Kevin Maisto, senior Marketing and Management double major, current student body president, and the 2015–2016 Noyce Carpenter Scholar, spoke more directly to the Noyces' children, ticking off experiences while at Drake that he called life changing: seeing two U.S. presidents, examining policy debates in the nation's capital, participating in a Model European Union in Brussels, serving on the Student Senate, and landing a seat for the national Democratic presidential debate in Sheslow Auditorium. All, he underscored, made possible by support from the Noyce family.
"Receiving this scholarship has reinforced my perspective of giving back," said Maisto, who arrived at Drake hoping to make a difference, and who will make his first gift to the University next year in order to help bring similar opportunities to new students.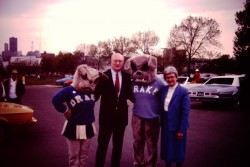 Patricia and Richard, said Jim Noyce, were strong proponents of quality education, believing it was the key for advancement in life. Despite never attending Drake, Richard and Patricia became passionate supporters of the University when they moved to Des Moines in 1958, and all three children—as well as a son- and daughter-in-law and grandson—graduated from the University.
Richard passed away in 2008 and Patricia in 2013. Their legacy gift to Drake University created the Richard J. and Patricia A. Noyce National Alumni Scholarship and the Richard J. and Patricia A. Noyce George A. Carpenter Scholarship, ensuring a Drake education for generations of Bulldogs.
"When I think of what was important to my parents, I think: family, friends, faith, and community," said Jim Noyce, recalling Richard and Patricia's turn as Drake's 1984 Parents of the Year. "They believed strongly that the college experience should extend beyond the classroom—that community is a key aspect of a holistic education. They also believed that Drake provided that back in the '70s and '80s when Ken, Carol, and I attended, and that it continues today."