Congratulations to everyone for a job well done!
Congratulations to all of the SJMC students, staff, faculty and alums who in myriad ways worked in recent weeks to make Drake shine in the spotlight of last weekend's Democratic debate on campus.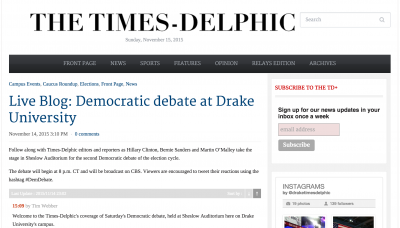 The Times-Delphic staff held its own against the professionals in its coverage of the debate, with comprehensive multimedia coverage that included a live blog and social media coverage from the spin room, video analysis and followup story posted the same night.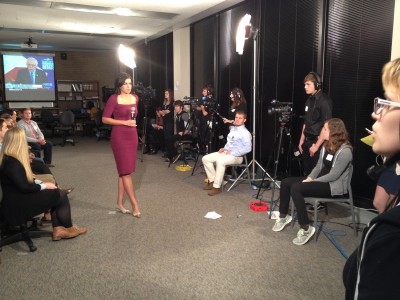 SJMC students, faculty and staff worked alongside the crew of the local CBS affiliate, KCCI-TV (including alum and award-winning producer Amy Schmelzer), which held a focus group of local voters at a debate-watch party in Meredith Hall.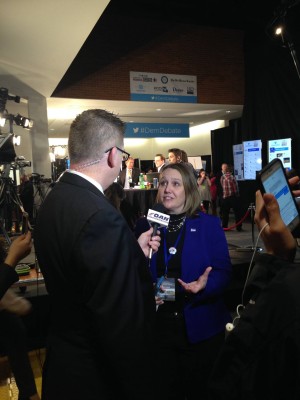 Professor Jennifer Glover Konfrst (above), who teaches in the PR, Strategic Political Communication and Master of Communication Leadership programs, was one of the experts interviewed in the media "spin room" after the debate.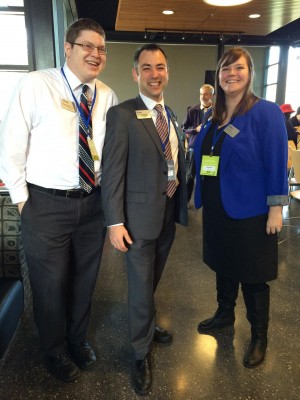 SJMC alums Aaron Jaco (left above) and Niki Jobst Smith (right), who work for University Communications, join UC's head of public relations, Jarad Bernstein, at the "politics and pancakes" breakfast that kicked off Democratic Debate day at Drake.
Documenting a busy time for SJMC
It's been a crazy busy few weeks for SJMC faculty, staff and students . . .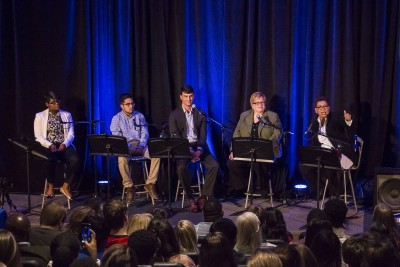 Drake SJMC hosted "NPR Presents: Michel Martin Going There," a program that was live-streamed and recorded for later broadcast. One of the four panelists discussing the youth vote was SJMC sophomore Brandi Dye (far left above).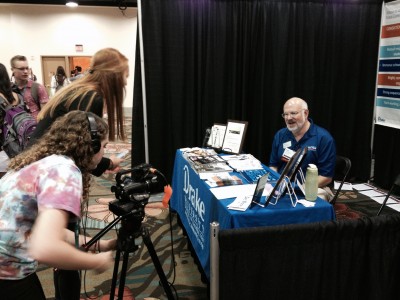 Professor David Wright was interviewed by high school students attending the national Journalism Education Association conference in Orlando, Florida. Wright and Professor Kelly Bruhn attended the conference to promote the SJMC. Bruhn heads to Kansas City this week to do the same.
A group of Russian journalists in Des Moines for a pre-debate Friendship Force visit met with students (including Ethan Turner, above) in Professor Grace Provenzano's advanced video production class.
Drake Political Review hosts 'Let's Talk Politics'
Join Drake Political Review on Wednesday, Nov. 18 from 5:30-6:30 p.m. to continue the political momentum on campus after the debate. Drake Political Review has invited the communications directors for the Republican Party of Iowa and the Iowa Democratic Party to campus for a discussion about politics in Iowa.
There will be a moderated panel with time for student questions and answers about what it is like to work in Iowa politics. It will be focused on the caucuses and their role when a large event like a presidential debate is hosted locally. This event is an excellent opportunity for students to network with leaders in Iowa politics.
Name: Let's Talk Politics: Political Communication and the Iowa Caucus
Date: Wednesday, Nov. 18
Time: 5:30 – 6:30 p.m.
Place: Pomeranz Stage, Olmsted Center
Guests: Charlie Szold, Communications Director for the Republican Party of Iowa, and Sam Lau, Communications Director for the Iowa Democratic Party
Info: Learn about what it is like to work in political  communications at the epicenter for national politics
The event is free and open to the public. Drake Political Review is a non-partisan student publication that encourages students to join the political conversation. If you have any questions contact Kelly Marble at kelly.marble@drake.edu or Madi Holmes at madison.holmes@drake.edu.
JMC Days 2015 continues with professional photos and more
Need a nice head shot for your LinkedIn profile, website or resume? Sign up at 120 Meredith:
Tuesday, Nov. 17 from 2:15-3:15—outside shots
Wednesday, Nov. 18 from 4:00-4:45—in studio (Meredith basement)
Thursday, Nov. 19 from 1:00-2:00—outside shots
All you need to know about portfolios: A panel of professionals from various disciplines will discuss what journalism and mass communications majors need to assemble for portfolios and other ways to "show off" your work on Monday, Nov. 16, at 6 p.m. in Mer. 101. At 6:30 p.m. professionals and students will move to separate rooms based on your major to talk more specifically about portfolios for your discipline and review individual portfolios as time allows.
Sign up for mock interviews (Friday, Nov. 20 and Monday, Nov. 23) at 120 Meredith.
"Global Women's Health and Reproductive Rights: Why Should Iowans Care?"
Who: ALL STUDENTS
What: A panel discussion on the issue of women's reproductive rights and broader challenges in international conflict zones. This panel will bring together national experts and local stakeholders who will discuss what can be done to ensure women and girls can access and afford the care they need.
Panel includes:
John Seager, President and CEO, Population Connection
Rekha Basu, Featured columnist, Des Moines Register
Debra DeLaet, Professor, Drake University
Laila Khoudeida, Activist, member of the Yazidi refugee community
 Cookies, brownies, and refreshments will be served, too.
Where: Upper Olmsted, all Conference Rooms
When: Tuesday, Nov. 17, 7 – 8pm
Pisarski attends forum
Dorothy Pisarski, Associate Professor of Advertising, attended the 2015 Executive Forum on Diversity & Inclusion | Race Relations: Taking Awareness to Action (3rd Annual) sponsored by the Greater Des Moines Partnership. It was held at the Holiday Inn Airport on Thursday, Nov 12.