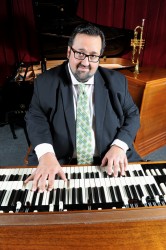 Master jazz organist and Grammy nominee Joey DeFrancesco will showcase his pioneering sound during a concert in West Des Moines this Sunday. The Civic Music Association is hosting this performance by the Joey DeFrancesco Quartet, which also includes Dan Wilson, Jason Brown, and Mike Boone, as part of its 2015-16 concert season.
The performance will begin at 7:30 p.m. Sunday, Nov. 15, in the Valley High School Staplin Performing Arts Center, 3650 Woodland Ave. A pre-concert program begins at 7 p.m. The event was originally booked for Drake's Sheslow Auditorium, but changed venue last month.
DeFrancesco's emergence in the 1980s signaled the return of organ jazz, especially the sound of the Hammond B3, to the jazz world. He signed his first record deal at the age of 16 and has performed on more than 30 albums and toured with Miles Davis, David Sanborn, John McLaughlin, Joe Lovano, and many more jazz legends.
DeFrancesco released his newest album, Trip Mode, on Friday.
Tickets start at $20. Student tickets are 40% off; $10 rush tickets are available at the door. More information and tickets are available at www.civicmusic.org/concerts/joey-defrancesco.