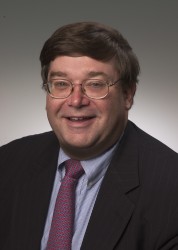 One of the nation's leading authorities on U.S. elections and political trends will return to Drake University for a public lecture on December 7.
Renowned political analyst Charlie Cook previewed the presidential cycle last year during a capacity-crowd event hosted by the Harkin Institute for Public Policy and Citizen Engagement. One year later, he looks forward to distilling the caucus chaos in a fun evening of non-partisan, up-to-the-minute political analysis and insight about the Republicans and Democrats as the candidates race to the finish line.
The event, hosted once again by the Harkin Institute, begins at 7 p.m. in the Sussman Theater in Drake's Olmsted Center, 2875 University Ave. Most tickets are free; certain seats require a refundable deposit, and VIP tickets are $50. Tickets are available while supplies last at www.drake.edu/harkininstitute or via telephone, 515-271-3591.
"Amidst all the campaign events in Iowa the last several months, this event provides a unique opportunity to step back from partisan politics and hear one of the country's premier authorities share his election forecasts," says Harkin Institute director, Marsha Ternus.
Cook is a contributing writer for the National Journal and editor of "The Cook Political Report," a newsletter that celebrated its 30th anniversary last year and is highly respected by leaders of both major political parties. He has been a political analyst or election night commentator for CBS, CNN, and NBC News, and appeared on Meet the Press and This Week. He is also a founding member of the Harkin Institute's National Advisory Council, having a strong commitment to the Institute's mission of nonpartisan policy analysis and citizen engagement.
The New York Times has called Charlie Cook "one of the best political handicappers in the nation" and has said the Cook Political Report is "a newsletter which both parties regard as authoritative." The late David Broder wrote in the Washington Post that Cook was "perhaps the best non-partisan tracker of Congressional races," while CBS News' Bob Schieffer called The Cook Political Report, "the bible of the political community."
VIP Reception
A limited number of VIP tickets are available for $50; these include premium seating and a pre-event reception with food, drinks, and a meet-and-greet with Cook. All proceeds from VIP tickets go toward the Harkin Institute's DC Experience Scholarship that supports students with financial need seeking experiential, unpaid Washington D.C. summer internships.
Parking
The Dial Center parking lot at 25th St. and University Ave will be reserved for "An Evening with Charlie Cook" attendees with limited shuttle service to the Olmsted Building before and after the lecture. Click here for a map and instructions.
Accessible seating
Contact Estelle Montgomery at (515)-271-3591 to reserve a seat for yourself and your companion. For further questions about accessibility or to request accommodations, contact The Harkin Institute at 515-271-3623.