Last call for tickets to NPR live event
Just a few free tickets are remaining for "NPR Presents: Michel Martin" in Sussman Theater on Nov. 10 at 7:30 p.m. The event will be live-streamed and recorded for future broadcast, and will include music and a discussion of what issues are important to young voters. Contact Dean Kathleen Richardson (kathleen.richardson@drake.edu) by this Wednesday to secure your spot.
Professor Jill Van Wyke's J73/103 multimedia reporting class has recorded interviews with Drake students that will be included in the program.
Drake ad students win local GRIT challenge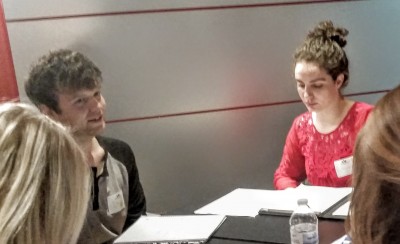 Zachary Allen and Katherine Rousonelos at the AAF event.
Katherine Rousonelos and Zachary Allen (team Magitive) this weekend won Audience Choice and Client's Choice awards at the American Advertising Federation of Des Moines GRIT contest for Iowa ad students. They created a campaign for the Diamond bike brand from Ruster Sports. Students participating in the event also visited agencies and participated in networking.
PR students and alums win PRSA awards
Drake public relations students and alumni were honored at last week's PRSA of Central Iowa annual institute.
Laura Plumb, JO'15, won PRSA Central Iowa Student of the Year and Abby Delaney, JO'13, was named Outstanding New Member. The following students won PRIME awards for their work in last semester's PR Planning class: Courtney Fishman, Jenna Sheldon, Lizzie Maassen, Rebecca Brown and Ashley Beall; Adam Graves, Kimberly Hennen, Garrett Carty and Katia Degtyareva; Alison Felsenthal, Abbey Schoenrade, Katie Ramsey and Hope Waggoner. The contest was judged by the PRSA chapter in New Mexico.
'War of the Worlds' expert to visit FYS
Brad Schwartz, author of Broadcast Hysteria: Orson Welles's War of the Worlds and the Art of Fake News, will speak to SJMC alum Niki Jobst Smith's FYS class on Thursday, Nov. 5, at 12:30 p.m. in Olin 206. Any students or faculty who are interested in attending are welcome. The FYS is entitled "Peeling the Onion: Fake News and Its Impact on Society."
Drake faculty visit Chilean university partner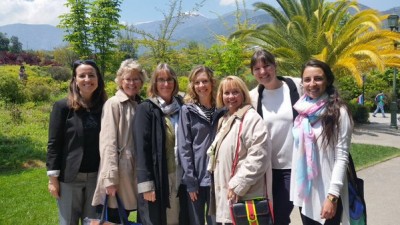 SJMC Dean Kathleen Richardson and advertising professor Dorothy Pisarski were part of a Drake delegation that traveled to Santiago, Chile, last week.
Universidad de los Andes, a private university, is a Drake international partner, and Richardson and Pisarski explored opportunities for greater collaboration among Drake and UANDES faculty and students. Pisarski also did field work in preparation for her January Term 2016 seminar in Chile. Richardson and Pisarski both taught classes in the school of communications, and Richardson gave a talk as part of a seminar on open government issues.
The Drake team is pictured above with the UANDES international programs staff, starting second from left: Richardson, Vice Provost Christa Olson, education professor Michelle Krogulski and Pisarski.
Get involved: Great Iowa Caucus opportunities
Drake is an extraordinary place to be during the U.S. presidential race, with unprecedented opportunities for students to work with media and political types from around the world. Take part in an online survey to explore volunteer opportunities related to the on-campus Democratic debate next month and beyond.
Another great opportunity: a reporting contest related to the Yahoo News Digital Democracy conference with Katie Couric on campus Nov. 12.