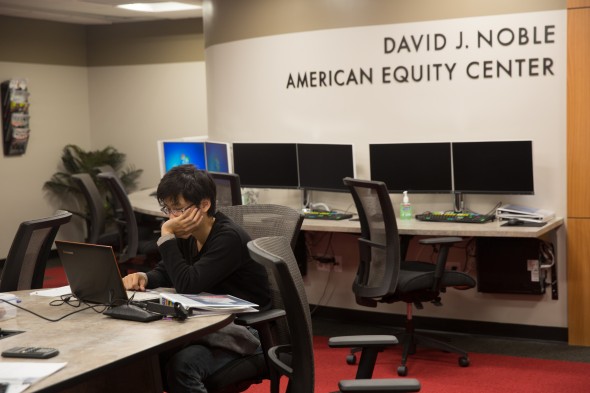 Drake students will now have access to a new state-of-the-art collaborative learning space with industry-standard business tools, thanks to a generous $1.5 million gift from American Equity founder and Drake University supporter David J. Noble. A dedication ceremony for the David J. Noble American Equity Center will be held at 11:30 a.m. Friday, October 9, in the lower level of Aliber Hall, located at 2847 University Ave.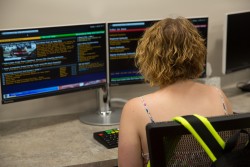 The eye-catching David J. Noble American Equity Center, with its red carpet and curved glass entry, is home to 12 Bloomberg Terminal computer systems, which allow users to monitor and analyze market data in real-time. The terminals will be deeply integrated into the classroom experience. Undergraduate finance majors and students pursuing a Master of Financial Management will be required to earn Bloomberg's user certification, and will use the terminals in a majority of their courses.
"This Center offers experiential learning at its best," said Tom Root, associate professor of finance. "Students use real-world tools and techniques combined with academic theory, providing them with an advantage in their job search and future careers."
The Center will serve as a hub for collaboration and mentorship. Accounting, economics, statistics, and actuarial students have regular lab hours in the space. Students can plug their laptops or other devices into digital screens, or write on large portions of the walls with dry erase marker.
Portions of the gift from David J. Noble and American Equity will also:
Establish an endowed scholarship award fund to create the David J. Noble Commitment to Excellence Award, which will be given to a rising senior/fourth year student within the College of Business and Public Administration "who most closely demonstrates the core values that define David J. Noble, including unyielding focus on always doing the right thing and never settling for anything less than total effort."
Support professional development for faculty in Drake's new undergraduate program in data analytics.
"I feel that it's crucial that students are afforded the opportunity to do real-world work while still in the classroom," said David Noble. "This was an opportunity to provide a transformative educational environment that enhances the educational experience at Drake and provides real world experience for students who share my love passion for business and finance."