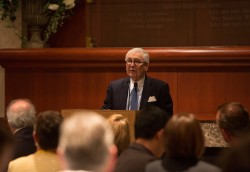 Iowa Gov. Terry Branstad had a choice last week: he could travel across the country to witness the Pope's visit, or attend a luncheon at Drake University in celebration of entrepreneurship.
He chose the luncheon—because, he said, "it was more important."
Iowa's unemployment rate, the sixth lowest in the nation, is a reflection of a vibrant economy that is bolstered by a strong entrepreneurial climate, the governor told a crowd of more than 80 people at the John Pappajohn Entrepreneurial Venture Competition Awards Luncheon on September 24 in Drake's Levitt Hall.
"The organic growth of startups is igniting communities and truly inspiring many people throughout Iowa," he said.
The governor attributed much of Iowa's entrepreneurial business climate to the support offered by the state's five John Pappajohn Entrepreneurial Centers (JPEC), launched by pre-eminent venture capitalist and philanthropist John Pappajohn and his wife, Mary, two decades ago. Each of the five centers has autonomy to operate in the way their structure, mission, and vision fits them best.
Thousands of students have taken entrepreneurship courses from the JPEC home institutions—Drake University, Iowa State University, the University of Iowa, University of Northern Iowa, and North Iowa Area Community College—since the centers were founded. The benefits have been far-reaching, said Drake University President Marty Martin.
"Thanks to the Pappajohn Center at Drake, our students are getting hands-on experiences with small-business owners and starting their own ventures in the process," Martin said. "We recently launched the Lorentzen Student Hatchery, which provides funding, mentoring, and connections for students to grow their business ideas… We have students from a variety of majors—not just entrepreneurship—participating in entrepreneurial classes, events, and competitions on campus. And students going through these programs aren't just prepared to run their own business. They have a skill set and mindset that is in high demand today in companies of all sizes across the globe."
One of the Center's flagship initiatives, the John Pappajohn Entrepreneurial Venture Competition (formerly known as the John Pappajohn Business Plan Competition), celebrated its 10th year of awards to promising new startups during the luncheon. First place winner Innovas Technologies, which combats one of the largest sources of energy waste in the country, received $25,000; runner-up Fanstreamm, a technology company that helps sports teams and venue leverage data to grow revenue, received $15,000; and third place finisher Immortagen LLC, which battles cancer through personalized medicine, received $10,000. In total, the competition has awarded more than $500,000 in financial support since its inception in 2006.
But money is only one reward of involvement with JPEC and the business plan competition, said Iowa businessman John Latham. He first sought the Center's guidance in 2005 while developing a new organization, Latham Hybrids LLC.
JPEC was "a sanctuary to get away from the naysers" who were skeptical of Latham's vision. Latham Hybrids was one of the top three finishers in the inaugural Pappajohn business plan competition in 2006; a few years later, the venture merged with longstanding family business Latham Seed Company to form Latham Hi-Tech Seeds, which today is one of the top 10 independent seed companies in the United States.
"My advice for entrepreneurs is to ignore the naysayers, to never give up, and to find capable people and people who will buy in to your organization," Latham said.
The luncheon's attendees included Iowa Economic Development Authority Director Debi Durham, administrators from five Iowa colleges and universities, The Des Moines Register Technology Reporter Matthew Patane, and a number of other top policymakers, business leaders, and civic leaders.
But the most renowned guest was John Pappajohn himself. He drew the crowd to their feet with a story about the origins of his insurance company and his decision to start the Pappajohn Centers.
He said: "Twenty years ago, my aim was to make Iowa one of the most entrepreneurial states in the country, and I believe we are there… I didn't do it, all of you did. All I did was to provide a little capital to get the system and the spirit started in the state of Iowa."
The fact that the Governor skipped an appearance by the Pope to celebrate Pappajohns' legacy is a sign that he's right.