Something fragmented is incomplete at best, broken at worst. The description is disconcerting in reference to health care, but it has been used—even in reports issued within the last few years by the World Health Organization. At the precipice of change, Michelle Bottenberg, Drake University associate professor of pharmacy practice, came together with colleagues in spring 2013 to form the Des Moines Area Interprofessional Education Collaborative.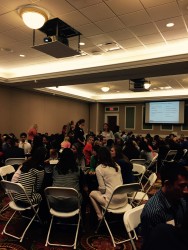 The grassroots joint effort of faculty from Drake, Des Moines Area Community College, Des Moines University, Grand View University, and Mercy College of Health Sciences is simultaneously changing the educational experiences of students from all five institutions. Health care delivery is evolving, and future pharmacists must understand their role within a network of providers, including nurses, doctors, and other health care professionals.
"The Collaborative assists the College of Pharmacy and Health Sciences in furthering its vision to become a diverse community of learners leading the way to a healthy world," says Renae Chesnut, CPHS interim dean.
This shift from fragmentation to collaboration is most effectively made through interprofessional education (IPE), which brings together students from two or more professions to learn about, from, and with each other. Such interdisciplinary opportunities build trust among students and allow them to gain an understanding of how they as pharmacists can utilize the skills of other members of a health care team. While each discipline and specialty has its own niche, they together provide the highest quality of patient care.
Faculty from all five institutions work to develop and offer IPE opportunities that are shared concurrently by students in pharmacy, nursing, medical, and allied health professions, which include physical, occupational, and respiratory therapy.
"The Collaborative has prepared me for a career working with a multitude of other health care professionals," says Elizabeth Bald, 2017 Pharm.D. candidate. "It has shown me the importance of team-based care."
Drake has hosted "brown bag" simulation scenarios during which students are grouped in interdisciplinary teams to evaluate a clinical case. Such an exercise creates shared accountability, resulting in continuity of care. Ultimately, each individual gains an understanding of what it means to work alongside other disciplines and establishes appreciation of the value other professions bring to patient care.
In addition, students have worked together at DMACC to initiate and adjust medications in a critical care setting simulation. DMU has hosted a resuscitation/advanced cardiovascular life support lab, which enabled students to learn how to effectively treat a patient with acute coronary syndrome. These along with other opportunities through Grand View and Mercy College of Health Sciences, utilize the full scope of knowledge, skills, and abilities of health care professionals, allowing them to provide care as a team that is safe, timely, and effective.
"Each IPE opportunity allowed me to display my strengths while familiarizing myself with the strengths of other professions," says Kayla Stein, 2016 Pharm.D. candidate. "This is something that will surely benefit me as I progress throughout my career."
And that's the overall, ultimate goal of the Collaborative. "Through modeling best practices in IPE," says Bottenberg, "we will improve patient care wherever our students go beyond graduation."