The CPHS PharmD Class of 2019 walked across the Sheslow Auditorium stage on August 28, 2015 to receive their White Coats. These White Coats that students will wear for their four years in the doctoral program, symbolize the authority of science and the art of healing. By wearing the coats and taking the Pledge of Professionalism, these students are committing to representing the Drake College of Pharmacy and Health Sciences with pride and responsibility.
The White Coat Ceremony was attended by President Earl Martin and Provost Joe Lenz as well as CPHS students, faculty, staff, friends and family members. Interim Dean Renae Chesnut and Interim Associate Dean for Assessment & Academic Affairs, Chuck Phillips, welcomed and introduced the students. Dr. Nora Stelter, the 2015 Granberg Leadership Award recipient, marshaled the students as Dr. Geoffrey Wall, 2015 Faculty Preceptor of the Year, and Dr. James Sacco, 2015 CPHS Teacher of the Year Award recipients assisted the students as they donned their coats.
P4 PharmD student and 2015 Iowa Pharmacy Association Jerry M. Karbeling Award recipient, Natalie Roy, addressed the students and encouraged them on this exciting journey. Kate Gainer, Executive Vice President & CEO of the Iowa Pharmacy Association lead the students in the Pledge of Professionalism.
Here is a link to the video of the 2015 White Coat Ceremony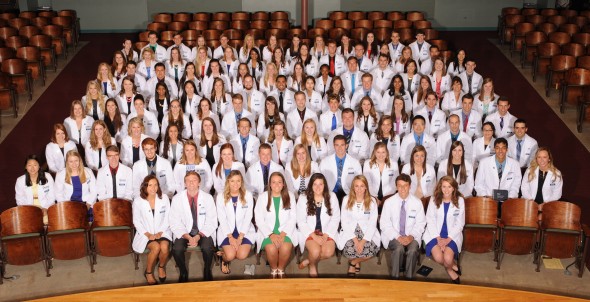 Class of 2019 Demographics
The College of Pharmacy and Health Sciences at Drake University welcomed 106 new student pharmacists at our P1 Orientation on August 27, 2015.
The majority (67%) are female, with 78.3% White Non-Hispanic, 12.3% Asian, less than 1% Hispanic, less than 1% Black/African-American and less than 1% Multiracial.
Drake pre-pharmacy students make up 84% of the P1 class.  Iowa residents compromise 34.9% of the class.
Our non-Iowan student pharmacists are from California (1), Colorado (1), Illinois (28), Kansas (3), Minnesota (14), Missouri (5), Nebraska (2), South Dakota (1), Texas (1), and Wisconsin (13).  The average overall GPA is 3.55, average math/science GPA for pre-pharmacy students is 3.50, and average PCAT composite score for transfer students is in the 70th percentile.  29.4% of transfer students earned a bachelor's degree prior to beginning their P1 year.