When President David Maxwell announced last spring that he would retire at the end of this month—June 30—a team of friends and colleagues of the president and his wife, Madeleine, planned an ambitious series of events that would give thousands of faculty members, staff, students, alumni, community members and other colleagues the chance to say their goodbyes.
"Maddy and I are immensely grateful to the whole team for creating so many opportunities for us to say a heartfelt 'thank you' to all the people who've made our 16 years at Drake University so rewarding, meaningful and enjoyable," said David Maxwell. "We have been so touched by the ways in which we have been embraced, encouraged and supported by all of Drake's constituencies."
Here are just a few highlights of the festivities that honored Drake's president and first lady:
The distinctlyDrake road tour
The Maxwells traveled as often as their schedule allowed this past year, meeting hundreds of Drake alumni at distinctlyDrake-themed events in Minneapolis, Sarasota, Naples, Chicago, and Kansas City. The events offered alumni in those areas one last chance to thank the Maxwells for their service to Drake. But the primary purpose was just the opposite—to allow David and Maddy to express their gratitude.
"It was great to see so many of the relationships our president has established with some of Drake's most dedicated and loyal alumni, and to see his genuine thankfulness for what these Bulldogs have done for the University," says Blake Campbell, director of alumni and development.
Campus Reception and Blues Bash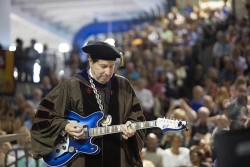 In December, President Maxwell spent part of his 70th birthday at a reception attended by several hundred friends, community members, and colleagues. The crowd enjoyed a rousing a cappella performance by the Brochal Chords, a group of Drake students, before laughing at a faux-blues performance by Vice President of Alumni and Development John Smith.
Then the crowd made its way to Sheslow Auditorium, where they heard a (real) blues performance by Grammy Award-winner John Hammond. Later in the evening, Maxwell received a custom Drake-themed electric guitar created by Bilt Guitars of Des Moines—a gift from the Drake community to a president who likes to unwind by playing a few licks.
Distinction with a Nice Ring to it
President Maxwell received another personalized gift at the last of the Maxwells' annual Senior Wine & Cheese receptions for graduating students. Student Body President Joey Gale and Student Alumni Association President Annelise Tarnowski presented Maxwell with a class ring and named him an honorary member of the Class of 2015.
"While the president may have joined Drake with the incoming class of '99, he is departing with the class of 2015," says Gale, BN'15. "He's embarking on his next life journey, just as we are. We wanted to share a piece of Drake with him; something that he can carry with him always."
From Maddy's kitchen to yours
To honor faculty and staff, the Maxwells visited each department on campus to personally thank them. Maddy prepared a few of her favorite dishes for the intimate receptions.
Try Maddy's recipes at home
.
Focus on the Future
Through it all, the Maxwells reminded the Drake community that the end of their tenure was only another beginning for a campus that has existed since 1881, and is poised to take a major step into the future with a $65 million STEM@DRAKE initiative. President-elect Earl F. "Marty" Martin assumes leadership of the University on July 1.
In retirement, the Maxwells are looking forward to enjoying the music and art scene in their new hometown of Asheville, North Carolina, as well as relaxing at their summer home in Maine. David will continue to work part-time in higher education; as of July 1, he will begin a year-long, renewable term as Senior Fellow at the Association of Governing Boards, a national association centered on governance in higher education. He will work with AGB on programs and policy focused on enhancing shared governance practices in higher education, and other AGB priorities.
Wherever life takes them, they will always be Bulldogs.
"Drake is indeed a very, very special place that we will always treasure," David Maxwell said. "It has become part of who we both are."
A collection of photos of President David Maxwell throughout the years: