Drake University was recognized in 2015 as a top producer of Fulbright Scholars and Students. Recent alumnae Mckenzie Leier, Alessa Strelecki and Brianna Shawhan have been offered Fulbright Scholarships for 2015-2016, and join the lengthy list of Drake graduates who have received the prestigious honor.
The Fulbright Scholarship program is one of the most competitive postgraduate international exchange programs in the nation. Students who receive a Fulbright Scholarship are federally funded to spend one year of postgraduate study teaching or conducting research in a foreign country. The application process is extensive, and only a select few applicants receive grants.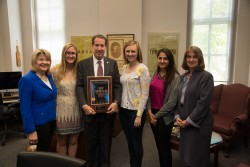 Historically, Drake University has been one of the top institutional producers of Fulbright Scholars in the category of master's producing institutions.
McKenzie Leier, a biochemistry, cell, and molecular biology major, will teach English in Malaysia from January to November 2016. Alessa Strelecki, an elementary education major, will be teaching English in South Korea. Brianna Shawhan, a magazine major who graduated in 2013, will be teaching English in Bulgaria.
"I was humbled to be chosen for the award, and I'm excited for the challenges and adventures that await," said Leier. "Teaching English will occupy most of my time, but I'm also hoping to learn more about local public health challenges in my placement community. Malaysia is a diverse country, and I'm looking forward to learning more about its distinct ethnicities and religions, particularly Islam."
Leier said Drake alumni who were Fulbright recipients assisted her in the application.
Strelecki plans to study the education system in South Korea while she is teaching there. "It will help me gain a worldly view of education," Strelecki said. "Hopefully I will be able to use that knowledge in my own classroom once I am back in the states."
Shawhan is currently teaching in the Czech Republic, which motivated her to apply for the Fulbright. After completing a year in Bulgaria, Shawhan hopes to go to graduate school for elementary education.
Six Drake University students were Fulbright semi-finalists this year. Visit www.fulbright.org to learn more about the Fulbright Scholarship Program.
Eleanor Zeff, associate professor of politics and international relations, has been the Fulbright program adviser since 2003.