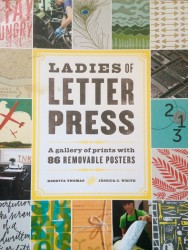 Sarah McCoy, assistant professor of graphic design, has had her letter press and design work featured in Ladies of Letterpress: A Gallery of Prints, a new book by the Princeton Architectural Press that was ranked the No. 1 Best Seller in Antique & Collectible Posters on Amazon.com.
McCoy owns and operates her own letterpress studio, "The Permanent Collection" in Des Moines, Iowa. She has been letterpress printing since 2001 and has led printing workshops at various Universities and conferences such as the Association Typographique Internationale and the organization of the international type community.
McCoy's work has also been included in various University Special Collection Libraries including Yale University's Haas Library and has shown her letterpress and book arts in international and national exhibitions.
She received an M.A. in 2003 and a M.F.A in 2005 from the University of Iowa School of Art and Art History in Graphic Design. She graduated with a Graduate Certificate in 2006 from the University of Iowa Center for the Book with a concentration in letterpress printing.
For more information contact Sarah McCoy at 515-201-4049 or at sarah.mccoy@drake.edu.