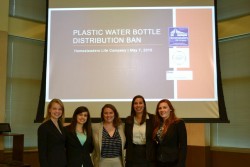 Homesteaders Life Company, in consultation with students at Drake University, announced today that Homesteaders will begin phasing out plastic water bottle use at their West Des Moines office in favor of a more environmentally-sound, cost-effective alternative.
Homesteaders Chairman and CEO Steve Lang announced the shift at the company's second-quarter employee meeting alongside a contingent of students from Drake's Environmental Action League and Leadership Education and Development program.
"Partnering with Drake to limit our plastic water bottle use is an exciting opportunity for us," said Lang. "Not only is the program good for the company, our employees and the environment, but it also provides an opportunity for these Drake students to get some hands-on experience pitching new ideas in a real-world business setting."
The students, who have been coordinating with Homesteaders executives throughout the fall and spring semesters, developed and presented a cost-benefit analysis and shared their experience with a similar student-led initiative implemented on their Des Moines campus in fall 2013.
"We expect that after two years, Homesteaders will have saved enough by cutting out plastic water bottles to cover the initial investment in new hydration stations," said Kelly Leatherman, a sophomore public relations and environmental policy major. "After that, we project a savings of over $4,800 each year."
The students encouraged Homesteaders' employees to take advantage of the program, noting the environmental impact of limiting individual plastic water bottle use as well as the health benefits of increased water consumption. Drake's restriction has saved an estimated 433,577 single-serve water bottles, according to a student environmental impact audit in December.
Students provided a national context for the environmental impact of water botttles:
Last year, Americans used 50 billion plastic water bottles. (Source: Ban the Bottle)
About 13 percent of the bottles used in the United States are recycled. (Source: National Resource Defense Council)
Single-serve plastic bottles generate 1.5 million tons of waste per year. By comparison, the Golden Gate Bridge weighs 887,000 tons. (Source: Hydrate Life)
Homesteaders Executive VP-HR and Administration Judy Ralston-Hansen is confident the new shift will add convenience and encourage employees to adopt healthier habits. "We have over 150 employees in our home office who will benefit from this new initiative," she explained. "This is just one more way to make sure the convenient option is also the healthiest."
Homesteaders' Employee Wellness Committee distributed reusable water bottles to all home office employees at the conclusion of the meeting. In the coming weeks, the company will begin phasing out plastic water bottle use and retro-fitting their water fountains to accommodate new water bottle filling stations.
Homesteaders Life Company is a national leader providing products and services to promote and support the funding of advanced funeral planning and end-of-life expenses. Visit homesteaderslife.com to learn more.
Drake University (drake.edu) is a midsized, private university in Des Moines, IA. Currently, Drake enrolls approximately 3,300 undergraduates and 1,700 graduate students from 40 states and more than 40 countries.