For Phillip Chen, inspiration is everywhere: an antique spike from a circus tent, the stories of his great-grandfather working in a California gold mining town, or even the rock piles his children arrange in their backyard. From this collection of materials, ideas, stories, and histories, Chen, professor of art and design and printmaker, creates works of art.
His work was recently showcased in New York City in an exhibition titled Memory Prints: The Story World of Phillip Chen on display at the Museum of Chinese in America. Composed of 15 different etchings, various objects, and video, the exhibit explored the history of Chen's family as well as the larger experience of Chinese Americans.
"There are elements of my personal family history in the exhibit, but there are also much broader themes," says Chen. "My work addresses a wide range of social, political, and historical topics."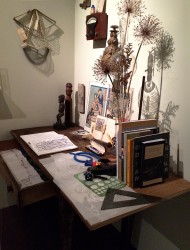 The exhibition was the culmination of two years of work for Chen and the guest curator of the exhibit, the Museum of Chinese in America's co-founder Jack Tchen (who is also the founding director of the Asian/Pacific/American Studies Program and Institute at New York University). Together the two worked to select pieces and craft a vision for the exhibition.
"I've shown in over 160 places over the years, and this was only the second exhibition I participated in that was about being Chinese American," says Chen. "Chinese American history is suddenly this hot topic, and different people are finding a personal connection with the history."
Though often grounded in stories and personal history, the creation of Memory Prints proved to be a laborious process for Chen as he strove for historical accuracy in his work. Drawing from and photographing real life objects to make his prints, Chen gathered materials from his own collection of antiques and borrowed items from museums.
"I use photography and hand drawing, so every piece in the show is an integration," says Chen. "Everything that I photograph or draw from has to be historically accurate, without compromise. I make sure the items are from the decade that I'm representing."
With historical accuracy comes a focus on essential information for visitors.
"Ineffability, the mysterious, and the arcane are built into visual art, but at MOCA the idea is not to mystify the audience but to educate them and to provide clear information," says Chen.
Though his exhibit has wrapped up its run, Chen still has a piece in the New York Historical Society exhibit called Chinese American: Exclusion/Inclusion. Kuo Chung's Release, which Chen deems an epilogue to his solo show, will be shown through April 19, and then will travel around the nation, including stops in Oregon and Washington.
"There's an ongoing life to the work beyond the show," says Chen. "Jack and I will work together on the possibility of a book or website centered around these pieces and all the historical content."