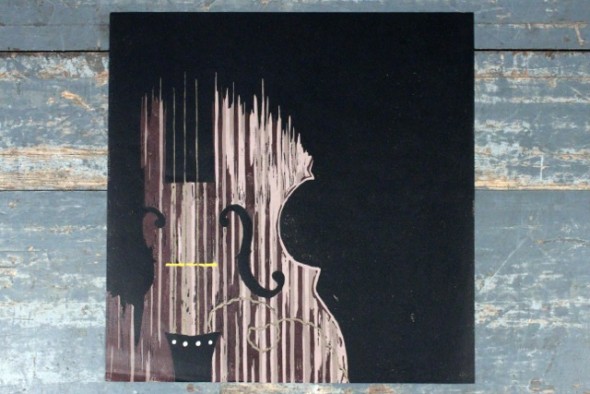 Five Drake University art and design students will present their senior thesis exhibition starting Friday, May 1 in Drake's Anderson Gallery. 
Seek features work by Drake seniors Emma Croskrey, Katie Hanson, Maria Hanson, Lexi Ruskell, and Claire Sedovic. The exhibition will run through May 15 at the Anderson Gallery, located in the Harmon Fine Arts Center, 2505 Carpenter Ave. An opening reception will be held from 5-7 p.m. Friday, May 1.
By sharpening the lens on common experiences, Seek strives to both identify and redefine basic human constructions. This multi-media exhibition featuring painting, drawing, printmaking, graphic design, and installation invites viewers to examine established ideas in new contexts.
Emma Croskrey is a graphic design major with an emphasis in printmaking and a minor in art history from Cedar Rapids, Iowa. Her work explores feminist ideologies and limitations imposed by the pressures of society. Using strong language, typographical elements, and complex shapes she pursues breaking societal norms.
Katie Hanson of Eden Prairie, Minn., is majoring in graphic design and painting with a minor in advertising. Her work examines how meaning is constructed and developed through different forms of visual communication. Her art strives to combine her passion for typography, design, painting, and bookbinding.
Maria Hanson of Monterey, Calif., is pursuing bachelor's degrees in drawing and rhetoric. She sees art making as an opportunity to explore ideas related to societal constructions and ideas surrounding food, gender, bodies, and art making itself. Her work, while aesthetically pleasing obfuscates some of the potential signifiers often associated with the imagery involved.
Lexi Ruskell is a graphic design major with a minor in printmaking and advertising from Burnsville, Minn. Her work values stark contrast to create dynamic imagery of common objects people encounter in their everyday lives. Through simplicity, she analyzes the significant elements of these objects and modifies them—ultimately playing with the concept of observation.
Claire Sedovic is a graphic design major with a minor in printmaking from St. Louis, Mo. Her work dances on the line between applied and fine arts, combining handcrafted aesthetics with design sensibility. She will exhibit work that explores the relationship between place and identity.
About the Anderson Gallery
The Anderson Gallery was established in 1996 as a dedicated space for the exploration of contemporary art and design. Additionally, the gallery hosts curated exhibitions of historically significant work, as well as annual showcases of student work from the Department of Art and Design. The gallery is a not-for-profit branch of the department, occupying a versatile 1800 sq. ft. space on the first floor of the Harmon Fine Arts Center.
The Anderson Gallery is free and open to the public Tuesday through Sunday 12-4 p.m. with extended hours until 8 p.m. on Thursdays. The gallery is closed on Mondays and during University holidays. For more information visit https://theandersongallery.wordpress.com/ or contact Heather Skeens, director of the Anderson Gallery, at 515-271-1994 or heather.skeens@drake.edu.