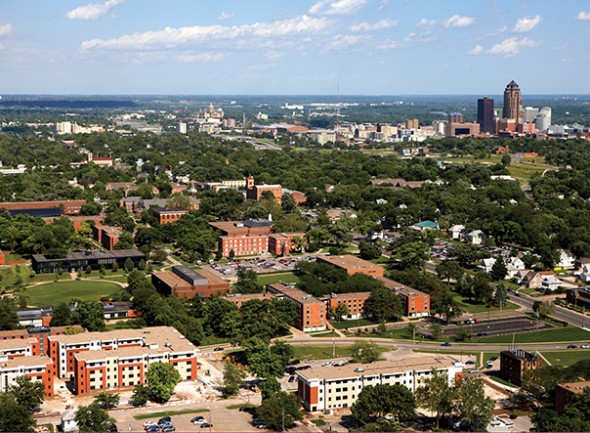 Drake University has received the 2014 Tree Campus USA recognition by the National Arbor Day Foundation for its commitment to effective urban forest management.
Created in 2008, Tree Campus USA is a national program that honors colleges and universities for engaging their students and staff in conservation goals. In its sixth year, Tree Campus USA has honored Drake University with this recognition twice.
Continuing with the conservation initiative and in light of the award, Drake University will plant a new tree at 12:30 p.m. on Thursday, April 16 on the east side of the Olmsted Center. This new tree will contribute to the over 1,500 trees on campus. The
"The Tree Campus USA honor, and our annual celebration of Arbor Day, present a great opportunity for students to explore and reflect on the many benefits that our trees have to offer—from offering a shady spot to study, to keeping buildings cool in the summer, to managing rainwater, and much more," said Jeff Bosworth, grounds manager at Drake University.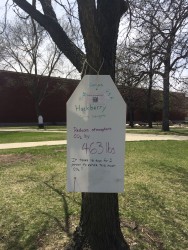 The Drake Tree Campus USA committee arranged the annual "tree tag" program on campus. Some of the trees on campus are adorned with a "tag" that shares information about the trees. The tags and the planting of the tree are both early Arbor Day celebrations, which is observed on April 24. The committee is made up of various faculty, staff and students on campus. Originally, the facts on the tags were created by a faculty member and a group of students in the biology department.
"Spring is upon us, the tulips and magnolias are blooming, and we're preparing to welcome thousands of people to campus for a Drake Relays. There's no better time to appreciate the value of our urban forest," said Bosworth.
A press release from the Iowa Department of Natural Resources – Forestry Bureau said, "Drake University has provided an outstanding example for other Iowa Colleges and Universities, by enhancing our forest resources and demonstrating the great value of trees in providing multiple benefits for future generations."
Drake University is one among five Tree Campus USA award winners in Iowa. In order to receive the recognition, Drake University met Tree Campus USA's five standards. These include a campus Tree Advisory Committee, a campus tree-care plan, a campus tree program with dedicated annual expenditures, an Arbor Day observance, and an engaging student service-learning project.
State Forester Paul Tauke commented, "The Tree Campus USA award is a symbol for universities and colleges who continually strive to educate and engage their students and surrounding community about the benefits of trees and exhibit excellence in their tree management."