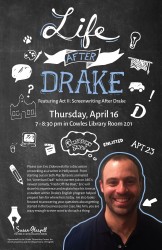 Lights, camera, action: Drake alum Eric Ziobrowski will share his experience  as a screenwriter in Hollywood. The free talk will run from 7 to 8:30 p.m. Thursday, April 16, in Cowles Library 201, on the Drake University campus. This event is open to the public.
Ziobrowski, who graduated from Drake with a journalism degree in 2001, started out as a writer on Seth Macfarlane's animated hit, "American Dad!" Currently he has taken his writing skills to ABC's newest comedy, "Fresh Off The Boat." Ziobrowski will talk about his time as a student in Drake's English and journalism programs and how it helped prepare him for the work he does today.
Ziobrowski will also talk to interested students about getting their start in screenwriting and what it's like to work and write for television in Hollywood.
"In my short story writing courses, Eric was that student who would read the entire collected works of an author like Raymond Carver just because you assigned one story in class," said Carol Spaulding-Kruse, professor of English. "He did that in every literature course he took. He devoured stories, and he believes that focus on story is what gives him an edge in Hollywood."
The event is part of the "Life After Drake" Series and is sponsored by the Susan Glaspell Writers & Critics Series, Sigma Tau Delta English Honors Society, Student Senate, and the Department of English.
For more information contact, Carol Spaulding-Kruse at carol.spaulding@drake.edu.