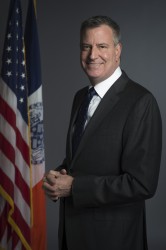 DES MOINES, IA — On Thursday, April 16, New York City Mayor Bill de Blasio will deliver remarks at Drake University on the issue of income inequality.
Mayor de Blasio's remarks are open to the public and OPEN PRESS. The event will begin at 10:30 a.m. in the Cowles Library Reading Room, located on the top floor of the library, 2725 University Ave. No tickets are required, but seating may be limited.
The Mayor's visit is by invitation of former U.S. Senator Tom Harkin and sponsored by the Harkin Institute for Public Policy and Citizen Engagement at Drake University and Drake University's Law, Politics, and Society program.
Also on April 16, Sen. Harkin will speak at Drake University on the topic of human rights. That lecture, titled "Making Human Rights a Part of Your Everyday," will mark the Senator's first public speaking engagement since his retirement from a 40-year Congressional career early this year. That event will begin at 7 p.m. Thursday, April 16, in Parents Hall, upper Olmsted Center, on the Drake University campus. A limited number of tickets are available; details are online at www.drake.edu/harkininstitute/; a separate news release will follow with additional information.
Drake University is committed to an open and productive exchange of ideas, allowing free and informed discussion of political affairs.  As a tax-exempt educational institution, Drake University does not endorse or oppose any political party or candidate for public office.
A bio of Mayor de Blasio can be found on his website at http://www1.nyc.gov/office-of-the-mayor/index.page.
Mayor de Blasio Event Media Details
Location: Reading Room, third floor Cowles Library, Drake University
2725 University Ave.
Des Moines, Iowa 50311
Press Arrival: 10:00 AM CST
Event Start Time: 10:30 AM CST
Press / Public Entrance: North side of Cowles Library
Parking: A free public lot is located on the north side of University Avenue between 28th and 29th Street. Street parking is also available along University Avenue as specified by city signage.
RSVP: This event is OPEN Press. For logistical/planning purposes, media is asked to please RSVP with NAME, POSITION (Reporter, TV, Camera, Photog, etc) MEDIA OUTLET, PHONE and EMAIL for each person planning to cover the event.