Students in the Drake University Science Collaborative Institute (DUSCI) will host the Drake University Conference on Undergraduate Research in the Sciences (DUCURS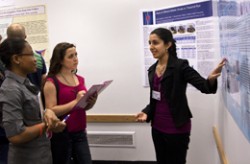 ), which will showcase the breadth of research across several disciplines
The 12th annual DUCURS event, which is free and open to the public, is in the Olmsted Center from 8 a.m. – 4 p.m. on Thursday, April 16. The event's keynote speaker will be Drake President David Maxwell.
DUSCI promotes undergraduate research in the sciences by encouraging interdisciplinary discussion and collaboration between students, faculty, and the greater Des Moines community. Each year, DUSCI hosts DUCURS to showcase the exceptional research conducted by Drake students. The conference provides a platform for students to share their findings with peers and others engaged in scientific exploration.
The day's events will begin with registration at 8 a.m. in the second floor lobby. The welcome address, oral presentations and the keynote address will be in Parents Hall North. Poster presentations will be in Upper Olmsted Center.
The day will conclude with the presentation of awards for the best poster and best oral presentation in the Parents Hall North. All participants and attendees will be eligible to win door prizes. Go here for a complete schedule.
If you want to see who is presenting and on what topics, review this schedule of DUCURS oral and poster presentations.
The following departments and programs will be participating in the event:
• Biology
• Chemistry
• Physics
• Environmental science and policy
• Psychology
• Neuroscience
• Mathematics and computer science
• Biochemistry, Cell and Molecular Biology (BCMB)
• Pharmaceutical science
DUCURS is made possible by Drake University's College of Arts and Sciences, College of Pharmacy and Health Sciences, and School of Education.
Visit www.drake.edu/ducurs for more information.