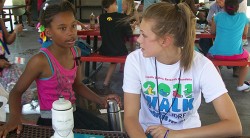 A proposal by Drake University to create a life-changing service year for first-year undergraduate students is one of three contenders for a national innovation award.
Drake's proposal to create an "Engaged Citizen Corps" was selected as a finalist for the "Service Year + Higher Ed: Innovation Challenge," sponsored by the National Conference on Citizenship and the Franklin Project at the Aspen Institute, with support from the Lumina Foundation.
Challenge organizers received more than 200 inquiries and 32 detailed proposals before narrowing the field to nine. Finalists will compete on April 15 for $30,000 each in the categories of private universities, public universities, and community colleges.
"We are honored to be selected as a finalist and to represent Iowa at a national level," said Mandi McReynolds, director of community engagement and service-learning. "The Engaged Citizen Corps is an opportunity to build on Drake and Greater Des Moines' rich history of actively engaging in community and economic development. Together, we are moving forward in creating meaningful, measurable, mutually beneficial community impact."
The recognition complements other significant recognition that Drake students, faculty, and staff have received for their service work this year, including from the federal Corporation for National & Community Service and the Carnegie Foundation for the Advancement of Teaching. As a result of Drake's emphasis on service, more than 80 percent of Drake students engage in service by the time they graduate and 70 percent of Drake employees volunteer every week.
"The active engagement of Drake's students, faculty, and staff in contributing to the common good is part of our DNA, and is a powerful manifestation of the role of the university in a civil society," said Drake University President David Maxwell.
Maxwell serves as co-chair of the Governor's Council on National Service in Iowa, a group that includes leaders from state agencies, higher education, and the private sector to make recommendations on how to expand national service for Iowans to more efficiently and effectively carry out the work of government and engage a new generation of Iowans.
Drake's Engaged Citizen Corps proposal aligns with and advances that work. As part of the Corps, first-year students would work toward increasing economic and community development in the Greater Des Moines region during a nine-month, 32-hour per week service placement. Participants would be placed at a local agency working in one of five focus areas: housing, transportation, health and safety, business cultivation, or arts and culture.
Corps members would also live together and take four courses each semester that enrich the service experience and emphasize valuable skills including written communication, information literacy, and engaged citizenship. Upon completion of the experience, students would receive 24 academic credit hours, which is equivalent to two semesters of full-time enrollment.
"Our goal is to engage 15-20 entering students to create the Engaged Citizenship Corps," said McReynolds. "By 2020, we will have 60-80 members who have completed the program. Collectively, they will have served over 72,000 service hours, recruited 600 volunteers for community projects, and increased the economic development and community capacity of the Greater Des Moines region."
On April 15, Drake representatives will have five minutes to present their proposal to a panel of judges, and 10 minutes to answer judges' questions.
Judges include:
Bill Basl – Director of AmeriCorps at the Corporation for National & Community Service (CNCS), former executive director of the Washington Commission for National and Community Service
Lattie Coor – President-emeritus, professor and Ernest W. McFarland Chair in Leadership and Public Policy in the School of Public Affairs at Arizona State University, chairman and CEO of the Center for the Future of Arizona, and former president of Arizona State University and University of Vermont
Maureen Curley – Former president of Campus Compact
Alan Khazei – Co-founder of City Year, founder and CEO of Be the Change, and co-chair of the Franklin Project at the Aspen Institute
Harris Wofford – Former U.S. Senator, special assistant to President Kennedy, and CEO of the Corporation for National & Community Service (CNCS) under President Clinton
Holly Zanville – Strategy director at Lumina Foundation
The top proposal from each category will win prize money, but contest organizers say influential attendees may choose to fund projects regardless of whether those projects win. More information about the challenge can be found at www.sychallenge.org/about-the-challenge/.