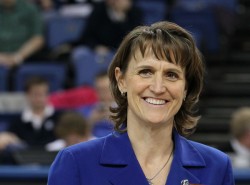 Sandy Hatfield Clubb, director of athletics at Drake University, will be honored at an all-star evening that features ESPN SportsCenter anchor Linda Cohn and some of Iowa's biggest sports names.
"An All-Star Evening to benefit CHARACTER COUNTS!" will be held at 6 p.m. Friday, April 17, at Prairie Meadows Event Center in Altoona. The event is a fundraiser for The Robert D. and Billie Ray Center, formerly known as Character Counts In Iowa.
Attendees include ESPN anchor Linda Cohn and Iowa celebrities including National Football League kicker Billy Cundiff, former Major League Baseball third-baseman Casey Blake, University of Iowa Head Football Coach Kirk Ferentz, and Iowa State University Head Football Coach Paul Rhoads.
"I am pleased that Linda Cohn will continue the great tradition of ESPN/ABC celebrities who have graced 'An All-Star Evening to benefit CHARACTER COUNTS!' with their presence since 2011," said Ray Cole, longtime Iowa broadcaster and past chairman of the ABC-TV board of governors. "Linda has been a constant mainstay on ESPN's Sportscenter since 1992. And as a pioneer for woman sportscasters everywhere, it's especially fitting for her to join in honoring a pioneer in her own right, Sandy Hatfield Clubb."
The Ray Center will present Hatfield Clubb with the 2015 Robert D. Ray Pillar of Character Award, which reflects former Gov. Robert D. Ray's lifelong commitment to civility and character development. The award is presented each spring to individuals who consistently demonstrate good character as a visible role model.
Hatfield Clubb is in her eighth year as director of athletics at Drake University in 2014-15. She was the first woman to serve as athletic director at an NCAA Division I school in the state of Iowa. In her tenure as athletic director, Hatfield Clubb has overseen great success in the classroom and in the field of play, and made a significant impact in the community, said Scott Raecker, director of The Ray Center.
"We're honored to present Sandy with the Robert D. Ray Pillar of Character Award," Raecker said. "She is an exemplary model of good character and leadership."
Past Pillar of Character award winners include famous Iowans such as Iowa State basketball coach Fred Hoiberg, professional football player Dallas Clark, and Olympic gymnast Shawn Johnson.
The event will include dinner, a general reception, and both a silent and live auction. Hy-Vee is the title sponsor of the All-Star Evening. Individual tickets are $200. To purchase tickets, visit www.CharacterCountsInIowa.org/AllStar
For more information, contact Amy Smit, 515-229-9327, amy.smit@drake.edu.