Daniel Finney, JO'97, is the Metro Voice columnist for The Des Moines Register. Read his first person account on how his career path started with an interaction with a professor in the halls of Meredith.
I always wanted to be a columnist.
Well, that's not strictly accurate. I wanted to be a mail carrier in kindergarten and firefighter seemed pretty cool around then. For a while, I wanted to be an artist for Marvel Comics.
Even after I got a taste of column writing at East High School in Des Moines, I came to Drake fall 1993 with the intention of being a history teacher.
So, obviously, the first thing I did on campus was get a job at The Times-Delphic (T-D) covering football, basketball, softball, and writing a sports column. The job paid $50 a month. It felt like I was stealing money.
I thought about rushing a fraternity, but the guy who would have been my rush counselor showed up at 8 a.m. My new roommates and I had been up into the early morning getting to know each other and bantering movie quotes.
I told the guy I was going back to bed. He was ticked off. I never saw him again. It worked out fine.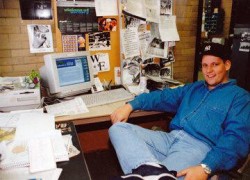 I wasn't always a good columnist. Sometimes I tried to be funny and it fell flat. During my sophomore year, Bob Woodward, the legendary professor emeritus of journalism, once cornered me after a column I'd written appeared in the T-D. The column used some colorful language—not exactly blue but a shade in that direction Woodward believed was beneath publication.
"If that column had come across my desk when I was an editor at the Washington Star, I would have put it right in the garbage," he said.
I was crushed. Woodward was and remains my hero. He's the best teacher I've ever had. I valued his opinion more than any outside of my own family. I was so troubled, I called home and wondered if I should change my major.
Not long after this, Woodward cornered me in the hallway. He handed me a book called Nobody Asked Me But: The World of Jimmy Cannon by Jimmy Cannon. Woodward suggested I read the book for ideas. Cannon was a great columnist in New York from the 1920s through his death in 1973. I love his style. The book is the most precious in all my collection. It's the one I'd save were my home ablaze.
I got plenty of ideas from the book, of course. But the real lesson was from Woodward, who so exemplified that special Drake connection between pupil and professor. On the one hand, he told me my work was unsuitable. On the other, he showed me a way to be better.
These days I am the Metro Voice columnist for The Des Moines Register. I am the rare person in 21st Century America who can say I have my dream job in the place I always wanted to do it
And the story began in a Meredith Hall hallway with a teacher pushing his student to grow.
Daniel P. Finney, JO'97, grew up in Winterset and east Des Moines. He still lives in the Drake Neighborhood and holds his alma mater in high esteem.