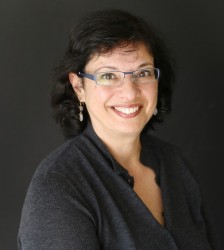 A Pulitzer Prize-winning journalist who spent more than 20 years reporting and writing on social issues including hunger, drug addition, and immigration in the United States will deliver a free public lecture at Drake University.
Sonia Nazario will deliver "Enrique's Journey and America's Children Immigration Dilemma" at 12:30 p.m. Friday, April 3, in Meredith Hall 101 on Drake's campus. The lecture, which is free and open to the public, will be followed by a Spanish-language classroom discussion of Nazario's book at 2 p.m.
Nazario won a 2003 Pulitzer Prize for Feature Writing for "Enrique's Journey," the story of a Honduran boy's struggle to find his mother in the U.S. The book also garnered the George Polk Award for International Reporting, the Grand Prize of the Robert F. Kennedy Journalism Award, and the National Association of Hispanic Journalists' Guillermo Martinez-Marquez Award for Overall Excellence.
Nazario grew up in Kansas and Argentina, and began her career at the Wall Street Journal. She has written extensively from Latin America and about Latinos in the United States. For her work she has been named among the most influential Latinos by Hispanic Business Magazine and a "trendsetter" by Hispanic Magazine; in 2012, Columbia Journalism Review named her among "40 women who changed the media business in the past 40 years."
The lecture is presented by Drake University in association with Simpson College and the Principal Financial Group Center for Global Citizenship at Drake University. Sponsors include the Drake Center for the Humanities, Drake World Languages and Cultures, Drake's Department of the Study of Culture and Society, and student-led organizations La Fuerza Latina and El Ritmo Latino.