Among the potted plants, the decorating tips, the slow cooker recipes, and the DIY crafts, is there a place for Millennials in the world of Better Homes and Gardens?
Meredith Corporation believes there is, and they're leaning on Millennials themselves—students from Creighton and Drake—to strategize ways to bring their flagship publication to a younger audience. The second annual Murphy Cup, a strategic marketing competition, centered on this very challenge. Held in Des Moines over the weekend of February 5, the cup brought together marketing students from Drake and Creighton to craft a multi-faceted plan to increase Millennial subscription rates. Teams competed to produce direct mail and social media plans, as well as their own unique marketing strategies.

The competition is the invention of Chris Murphy, JO'79, a Drake alumnus and member of Creighton's Board of Trustees.
"We wanted to put Drake and Creighton students together so that students can broaden their social and professional networks," says Andy Norman, associate professor of marketing and the competition's faculty leader. "We wanted it to be not only a competitive event but also a collaborative one."
Six teams, composed of four students each—two from Drake and two from Creighton—worked throughout the weekend to craft their plans for BHG, and get to know one another's strengths.
"Drake and Creighton seem similar, but the things we had learned were very different," says Alyssa Mougin, a senior marketing and entrepreneurial management major and one of the competition's participants. "It was good just to talk, come together, and bounce ideas off each other. We got along really well—so much so that we would hang out with each other even when we weren't working."
As Mougin's team of collaborators took shape, they developed a unique strategy based on their classroom marketing knowledge and everyday experiences as Millennial media consumers.
"Our strategy was to create a Better Homes and Gardens experience," says Mougin. "We've seen how much Millennials interact with Pinterest, and we wanted to make the magazine more like that."
The team planned events hosted by guest bloggers, engaging direct mail pieces, and content targeted to younger readers. They also had the benefit of working on the project within the walls of Meredith Corporation itself.
"The students were able to not only work on a problem presented from this company, but there were Meredith managers checking in on them, and they were right there in the environment, which made it more real," says Norman.
The realness of the experience was also echoed in the tight time crunch students were working under. After receiving their assignment Friday morning, teams had to be ready to present their marketing plans Saturday afternoon.
"We learned what's it's like when you're actually working on projects and have a timeline," says Mougin. "The whole experience was reflective of real marketing jobs, especially in agencies where everything is just really fast-paced."
Teams presented their plans to a judging panel composed of executive vice presidents from major Des Moines advertising and marketing agencies such as Flynn Wright and Integer as well as the editor–in-chief and executive editor of Better Homes and Gardens.
Mougin's group was awarded the runner-up prize by the prestigious panel, a sign of future success for the budding marketers.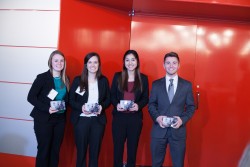 "It's a huge accomplishment because we got the chance to present to and were chosen by some of the highest ranking people within Meredith, as well as outside judges with high ranking positions in companies and agencies," says Mougin. "These are people we could be working for someday."
Beyond their preparation for the professional world, students are getting to see the benefits of their work as soon as this summer—when Meredith Corporation will begin implementing the top three direct mail campaigns crafted in the Murphy Cup.
"Students can show off all this work they've done, and it's not just little things either but creating strategies for Meredith's flagship brand that might actually be used," says Norman. "It's just an outstanding opportunity to interact with professionals in such a close relationship."