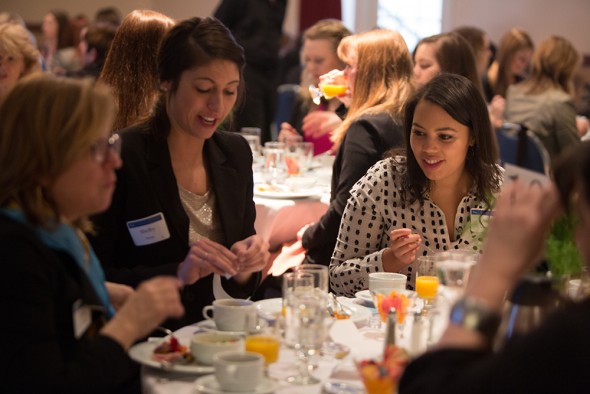 Students in the College of Business and Public Administration (CBPA) met with faculty, staff, and community leaders last month to celebrate and support the role of women in leadership.
The Women's Leadership Breakfast was sponsored by John Deere and held at Levitt Hall in Old Main on Friday, Feb. 27. Nearly 50 students joined with a group of CBPA faculty members and 25 community leaders for the breakfast.
The college issued awards to eight female presidents of student organizations within the CBPA:
Salena Brickey, International Traders of Iowa, senior
Morgan Hollenbeck, Ambassadors Club, junior
Brooke Katzmarek, Gamma Iota Sigma, senior
Jessica O'Donnel, Alpha Kappa Psi, senior
Maryna Rath, ENACTUS, senior
Amara Schlader, Drake American Marketing Association, senior
Courtney Smith, Women In Business, first year
Rachel Spitzig, Drake Actuarial Student Society, junior
Madeleine Maxwell, spouse of Drake University President David Maxwell, delivered a keynote address full of personal anecdotes and words of wisdom. She received the Women's Impact Award in recognition of her contributions as a role model and mentor.
Drake junior Mollie Wheeler introduced Maxwell with kind words about Drake's first lady.
"[Maxwell] works nonstop to help out the Drake community, and doesn't get half the recognition she deserves," states Wheeler. "I love her passion for excellence and having her as a role model makes me strive to be my very best in everything I do."
Wheeler, who works at the Maxwell house, also spoke about how Madeleine has embodied leadership all through her life, touching on the fact she worked on her first national advertising campaign at age 23.
Maxwell left words of wisdom for each women in attendance: "Mediocrity is unacceptable, and 'good' isn't usually good enough."
For more information about the Women's Leadership Breakfast, contact Annette Watson at 515-271-4715 or annette.watson@drake.edu.