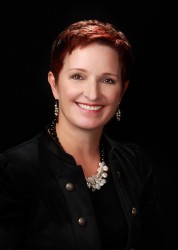 Wendy Duncan, dean of the College of Pharmacy and Health Sciences, has recently received multiple awards for her influence and leadership in the fields of healthcare and higher education.
In honor of the 250th anniversary of the city's founding, the St. Louis Branch of American Association of University Women named Duncan as one of 250 women who have made an impact on the city. Duncan was honored for her leadership as dean of pharmacy at St. Louis College of Pharmacy, a position she held prior to arriving at Drake. The Association said she positively shaped the college and was instrumental in the creation of an innovative curriculum which is now coming into being.
In addition, Duncan was also elected to Distinguished Fellowship in the National Academies of Practice and the Pharmacy Academy as a Distinguished Scholar and Fellow. This honor acknowledges Duncan's work as a recognized leader in the healthcare field. The National Academies of Practice represents 14 health professions including, among others, medicine, osteopathic medicine, dentistry, nursing and pharmacy and is the only interprofessional group of healthcare practitioners and scholars dedicated to supporting affordable, accessible, coordinated quality healthcare for all.