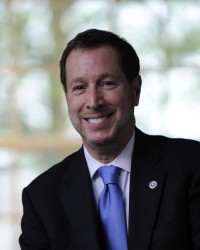 The Chinese Association of Iowa has named Drake University President David Maxwell its Person of the Year.
Association members bestowed its top honor on Maxwell in recognition of his personal commitment to promoting cultural diversity and enrichment in Iowa, as well as Drake University's exceptional efforts to promote global citizenship and enhanced awareness of global issues.
"Under Dr. Maxwell's leadership, Drake University has forged deep and meaningful relationships with China—relationships that bring value to the Chinese population in the Midwest, to students and members of our communities, and to scholars and citizens of China," said Swallow Yan, executive director of the Chinese Association of Iowa.
Maxwell's work in 2003 alongside colleagues in Iowa and China resulted in the development of Drake's Teach in China program, which in the past 12 years has placed nearly 200 Drake graduates in teaching positions in Hebei Province, Tianjin, Chongqing, and Guilin. Personal visits by senior Drake administrators, including Maxwell, also developed relationships that led to student and faculty exchange and transfer programs between Drake University, Drake Law School, and Southwest University of Political Science and Law in Chongqing, Drake's first strategic partner in China.
The Teach in China program is one of many initiatives at Drake, spanning myriad areas of campus, dedicated to fostering responsible global citizenship among students, faculty, staff, and other members of the Drake community.
"I am honored to receive The Chinese Association of Iowa's Person of the Year Award, and I share this honor with countless members of the Drake community who have helped Drake fulfill its core commitment to promoting responsible global citizenship," Maxwell said. "It has been very rewarding personally for me to see the results of these exchange relationships, as students and faculty from Drake and from our Chinese partners collaborate in ways that build lasting professional, personal and institutional ties."
Drake's diverse partnerships with China include projects in the following areas:
MUSIC: This spring, faculty will take the first group of 13 Drake students to Beijing for a two-week visit to co-produce performances with students and faculty at the College of Music of Minzu University of China in Beijing. Drake hosts the school's exchange students for yearlong visits and faculty for short-term visits.
BUSINESS: Drake's College of Business and Public Administration hosts and sends exchange students for semester-long study and faculty for short-term visits in partnership with the University of International Business and Economics in Beijing.
SCHOOL OF EDUCATION: Higher education institutional leaders from across Hebei province attend symposia by Drake faculty and staff on program and instructional assessment, in coordination with the Hebei Ministry of Education.
WORLD LANGUAGES: In fall 2015, Drake's World Languages and Cultures Program will host its first visiting assistant Chinese instructor from Minzu University's master's program in teaching Chinese as a foreign language.
ADMISSIONS: Drake conducts an expedited admissions process for graduates of Shijiazhuang Foreign Language School.
LAW: Drake Law partners with from Southwest University of Political Science and Law, Northwest Political Science and Law in Xi'an, and the University of International Business and Economics to recruit Chinese students to the Master of Laws program.
RESEARCH: Drake hosts visiting scholars every year in a variety of programs funded by the China Scholarship Council to conduct research and provide public presentations or performances related to China.
Drake and the Chinese Association of Iowa co-hosted Iowa Chinese New Year Celebrations in 2005, 2006 and 2008. Drake also hosted the Association's 20th anniversary celebrations in 2007.
Maxwell has served as president of Drake University since May 1999. He plans to retire on June 30, 2015 after 16 years as president and more than 40 years in higher education.