Three major Des Moines institutions will kick off an innovative pilot program today designed to give talented high school students a pipeline to higher education and employment in science, technology, engineering, and mathematics (STEM).
The 40 ninth-grade students from Des Moines Public Schools participating in the inaugural STEM Explorers program gathered on Drake's campus Thursday evening to celebrate the launch of the program, orchestrated in partnership between Des Moines Public Schools, the Principal Financial Group, and Drake University.
Participating students were selected based on their exceptional academic achievement in math as well as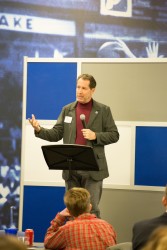 financial need. While pursuing their high school diplomas they will be mentored by Drake University students, all of whom are in majors that require high level math skills and have held internships or attended leadership events at The Principal. In their senior year of high school, participants will be considered for admission to Drake University with generous financial aid support.
At Drake participants will be introduced to a variety of professional opportunities including actuarial science, accounting, information technology, finance, and data analytics through mentorship and coursework, and given priority consideration for paid internships at The Principal during their time at the University. Ultimately the Explorers will receive priority consideration for careers at The Principal after earning their degrees.
"This is a major collaborative effort to solve real challenges of college affordability, college readiness, and STEM education among students who are traditionally underrepresented in higher education and in the workforce," said Maxwell. "We are fortunate to have forward-thinking partners in Des Moines who are willing to tackle these complex issues, and it is extremely exciting to meet the bright young people who will benefit from year one of this program."
Drake University President Maxwell first unveiled the STEM Explorers plan in January 2014 during a White House summit in Washington D.C., during which White House officials asked higher education leaders to commit to plans for increasing college opportunity for low-income and disadvantaged students.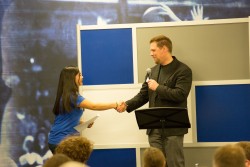 "This is a wonderful opportunity for talented students who have worked so hard to get to this point in their academic careers," said Tom Ahart, superintendent of Des Moines Public Schools. "We're encouraging students to take full advantage of this opportunity, and as Iowa's largest school district we have made providing greater access to STEM educational programs a priority across all grade levels."
Southanary Macvilay, a sophomore accounting major at Drake, is a mentor in the STEM Explorers program. She says the program would have benefited her while she was a student at Des Moines Lincoln High School.
"When you're in high school and the pressure of college actually comes around your sophomore or junior year, everything just becomes overwhelming and exhausting," Macvilay said. "That's why I am glad that we will be working with these talented students as soon as their high school career starts. We can ease them into the journey of college. With this program having a partnership with The Principal, that would have meant even more to me [in high school], because growing up I've always known The Principal is a really good company to work for."
The Principal is among many central Iowa employers who have a strong demand for STEM-qualified employees, particularly those with strong quantitative skills. Those workers can be hard to come by—nationally, fewer than 40 percent of students who enter college intending to major in a STEM field complete a degree, according to the U.S. Office of Science and Technology Policy. The STEM Explorers program will provide strong incentives for participants to persist in their fields of study, through work opportunities during and after college.
"It's important for The Principal to have access to a well-educated pipeline of STEM students from Iowa high schools and universities," Zimpleman said. "About a third of The Principal's current Iowa workforce is in STEM positions, so we have a strong interest in working to encourage students of all backgrounds to pursue education in the STEM disciplines."