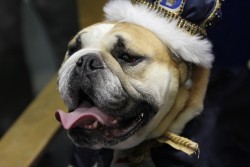 Registration for the 2015 Beautiful Bulldog Contest is now open for entry and will remain open until Monday, March 9. Any and all proud owners of English bulldogs are welcomed to enter.
Around one hundred contestants enter the event each year. Due to such a large number of Beautiful Bulldog hopefuls, there will be a public lottery on Tuesday, March 24 at 6 p.m. in Olmsted Student Center on Drake's campus to pick the 50 lucky dogs that will compete in the big event the Sunday before the Drake Relays.
"The Beautiful Bulldog Contest has been a tradition at Drake for 35 years," said Mike Cigelman, associate athletic director at Drake University. "It is a great way for us to kick off the Drake Relays and celebrate our beloved mascot – the English bulldog."
The 2015 Beautiful Bulldog Contest will take place on Sunday, April 19 in the Knapp Center. Judging will begin at 12:30 p.m. with the Pageant beginning at 2 p.m. Along with the coveted Most Beautiful Bulldog award, contestants will have to chance to win awards such as Drake Spirit, Family Theme, and Porterhouse People's Choice.
Spectators are encouraged to come watch the event, with over 750 people in attendance last year. Fans can cheer on the bulldogs as they strut their stuff and even look into getting a bulldog of their own.
"There will be several Bulldog rescue organizations on site," said Cigelman. "We want to draw attention to the many bulldogs out there that are in need of a good home. Families will be able to start the process to adopt a bulldog right at the event if they want to."
Those unable to attend will be able to watch the events on a live stream and follow along on twitter with the hashtag #BeautifulBulldog.
The winning bulldog will succeed last year's Most Beautiful Bulldog, Lucey. The winner receives several prizes and attends Relays activities throughout the week where they are honored as the Drake Relays Mascot. The winner also attends various Drake events throughout the year.
To enter the contest or learn more about it, visit https://alumni.drake.edu/BeautifulBulldog.
For any other questions about the Beautiful Bulldog Contest, or event registration, please reach out to Mike Cigelman at 515-271-3810 or michael.cigelman@drake.edu.