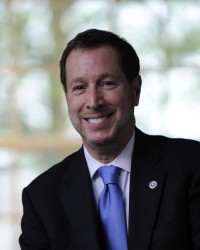 Drake University President David Maxwell has accepted a position as Senior Fellow at the Association of Governing Boards, a national association centered on governance in higher education.
The year-long, renewable fellowship will begin July 1, 2015, following a 16-year presidential tenure marked by significant improvements in Drake's national stature, academic profile, financial position, and strategic direction.
"We look forward to David joining AGB as a Senior Fellow upon the completion of his time at Drake," said Richard D. Legon, president of AGB. "His experience and depth of knowledge, along with the respect with which he is held across higher education, will benefit our work, college and university governance, and the students served by our institutions. We are honored that David has accepted this assignment as he continues to serve our nation's higher education system."
Since 1999, Maxwell has elevated Drake's stature within the national higher education landscape through service on a number of higher education nonprofit and association boards, including the American Council on Education, Association of American Colleges and Universities, the Council for Higher Education Accreditation, and the National Association of Independent Colleges and Universities. As a member of the executive committee for the Business-Higher Education Forum, Maxwell has worked closely with Fortune 500 CEOs and other prominent college and university presidents to advance innovative education and workforce solutions and improve U.S. competitiveness.
He has established himself as a national thought leader through essays and op-eds in AGB's Trusteeship, ACE's The Presidency, Hechinger Report, Inside Higher Ed, EDUCAUSE Review, The Huffington Post, Educause Review and Business Officer, presentations at national conferences and a role as facilitator at a variety of higher education workshops. He is best known for his expertise on effective governance and the value and relevance of liberal education.
As a Senior Fellow, Maxwell will work with AGB on programs and policy focused on enhancing shared governance practices in higher education, and other AGB priorities. He is already serving on the advisory council for a Lumina Foundation funded AGB project on the board's role in the national attainment and completion agenda. In addition to the position as Senior Fellow, Maxwell will have opportunities to consult with college and university governing boards and presidents.
"Thanks to my role on the boards of directors of several national higher education associations, I have had the privilege of participating in the national discussion about critical higher education issues," said Maxwell. "The position with AGB is a wonderful opportunity to continue to contribute finding solutions to the many challenges facing us as a sector."
Maxwell will draw on experience gleaned at Drake, as well as knowledge he developed as president of Whitman College (1989-1993), as a faculty member (1971-1989) and academic dean (1981-1989) at Tufts University, and as director of the National Foreign Language Center in Washington, D.C. (1993-1999).
"As a respected national leader in higher education, Dr. Maxwell's insights will provide immeasurable benefits to the AGB members and clients he serves," said Dave Miles, a member of the Drake University Board of Trustees and vice chair of AGB's Board of Directors. "I am confident that he will bring the same seriousness of purpose, enthusiasm, and creativity to his new role as he has demonstrated at Drake."
Maxwell will be succeeded at Drake University by Earl F. "Marty" Martin, who currently serves as executive vice president at Gonzaga University.