One of the more popular service learning trips is the Belize trip, chaperoned by Dr. Sally Beisser, Dr. Shelley Fairbairn and Lynda Brown of the School of Education.  Students are able to choose from three different experiences in Belize; Marco Gonzalez Maya archeological site, Holy Cross Anglican School and the Belize Strombus gigas Alliance (SGA).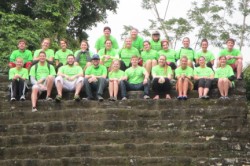 Dr. Fairbairn along with Jan Brown of the Marco Gonzalez Maya archeological site, took students on a tour of these ruins. Students were able to talk to people who live on the island and then the students had to create a video to bring awareness about the site.
Dr. Beisser with Dr. Dianne Lawrence from the SGA had students study the conch in its natural habitat and the possible uses and its economic importance. Students learn the importance of the conch as it affects the fishing industry as well as other possible uses.
At Holy Cross Anglican School, Professor Lynda Brown worked closely with Drake students and teachers at the school. Some of the Drake students assisted local teachers, other students performed service projects like painting classrooms.
"Part of our mission statement is to prepare students to be responsible global citizens, " said Dr. Fairbairn.  "Many students come away from the Belize experience with a better understanding of the world outside of their area of study in school and how the world affects them. For some of the students, the experience is life changing and that is something that you cannot learn in a traditional classroom."