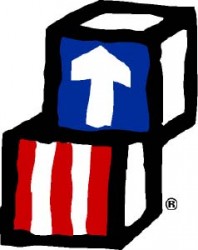 Drake University has been selected for a $1.1 million federal grant that will allow eight of Des Moines' urban childcare centers to increase the quality of year-round, full-day service for infants, toddlers, and two-year-olds.
U.S. President Barack Obama announced on Wednesday, Dec. 10, that the Department of Health and Human Services' Administration for Children and Families (ACF) had preliminarily selected 234 grant applicants in 49 states, Washington D.C., Puerto Rico, and the Northern Mariana Islands, to receive more than $435 million in funding. The Drake University Head Start program was selected as a preliminary recipient, and program officials expect to receive official confirmation from the ACF that will allow them to start allocating $1,170,955 in funding on January 1.
The grant effectively doubles the reach of Early Head Start services administered and overseen by Drake University Head Start, a grant-funded program that currently serves 88 Early Head Start children (ages infant through two years old) in Polk County and 838 Head Start children ages 3-5 in six central Iowa counties. As a result of the new grant funding, eight childcare centers in Des Moines' urban core will boost teacher pay, increase professional development and coaching for teachers, provide education and support for parents, and enforce stricter Early Head Start quality standards.
"In addition, we'll reduce class sizes in these centers—some classes that currently have 12 children, for example, will decrease to have no more than eight," said Judy Russell, director of Drake University Head Start. "We'll also provide a family engagement specialist to work with families, because we believe families will always be the child's primary and best teacher. This is a huge and much-needed step forward for Early Head Start programming in Des Moines."
Drake collaborated with United Way of Central Iowa and Polk County Early Childhood Iowa to identify participating centers and develop a plan to implement the grant. Drake will provide additional services and oversight to ensure the stringent requirements of the grant and Head Start Program Performance Standards are met. The grant and ongoing collaboration among Drake, United Way of Central Iowa, and Polk County Early Childhood Iowa will further enhance the quality of early childhood programming in the partnership centers.
Some families who previously didn't qualify for government childcare subsidies may receive funding through the grant. That's crucial for centers like Oak Academy in Des Moines' Oakridge Neighborhood, where 98 percent of families with kids in early childhood education receive some kind of government subsidy.
"For parents who are struggling to find employment, or who are trying to go to school, there's been too little out there to help them," said Vicki Williams, director of Oak Academy. "This provides that support that is so beneficial for our children. We know the earlier we can provide quality care and education, the better off [children] are going to be when they hit preschool, which in turn prepares them for elementary school. Ultimately it increases our high school graduation rates, and brings so many lifelong benefits."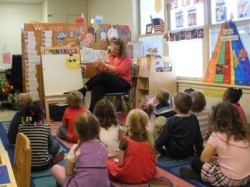 Teachers and teacher associates who provide early childhood education in the grant-funded classrooms will earn at least a Childhood Development Associate's degree—one of multiple grant components that will enhance the quality of education for Des Moines' youth.
"This is so critical: We need to have educated employees who are paid what they're worth," said Williams. "If we are going to talk about quality, we have to raise what our teachers are paid, and we also have to create the pathway for our teachers to have professional development education. To partner with Drake Head Start, through this grant, is tremendously exciting and children will be better off, throughout their lives, for it."
Participating childcare centers are in the Urban Core Child Care Center Coalition, a partnership established by United Way of Central Iowa and Polk County Early Childhood Iowa to enhance the quality of childcare. The centers serve a diverse population: one is in a residential drug treatment center, two are in high schools serving teen parents, one is in a low-income housing project, one is a bilingual program, and three are in areas with access to serve the homeless.
Participating centers are:
Capitol Park Early Learning Center, 800 E. 12th
Children and Families of Iowa Child Development Center, 801 Forest Ave.
Hispanic Educational Resources – Conmigo Early Education Center, 828 Scott Ave.
House of Mercy, 1409 Clark St.
Little Scarlets – Capitol Park Early Learning Center, 800 E. 12th
Oak Academy, 1401 Center St.
Teddy Bear Town, 3725 52nd
Wonder Years Academy, 3838 Martin Luther King Jr. Pkwy
Nationally, the Department of Health and Human Services says its federal grant funding will provide Early Head Start services to about 30,000 additional children, representing a 25 percent increase in the size of the program. "That's a lot of young lives changed," said Health and Human Services Secretary Sylvia M. Burrell. "And a lot of impact delivered."