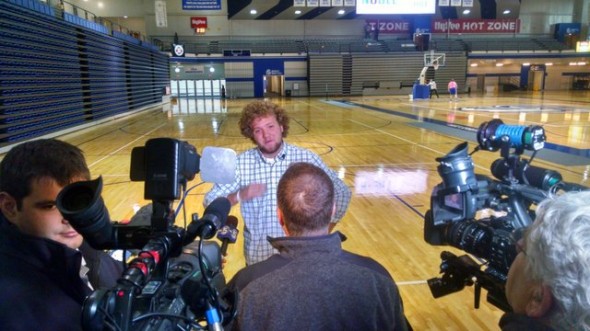 Bulldog Madness began in full force on Nov. 4 when a first-year student buried a miraculous half-court shot to win a brand new truck.
Alex Tillinghast's hustle to successfully sink a layup, free throw, 3-pointer, and half court shot won him a 2014 Ford F-150 truck from Noble Auto Group. It also made the Des Moines native a viral sensation, with video spreading to ESPN (including a SportsCenter highlight), Sports Illustrated, NBC Sports, USA Today, Huffington Post, Uproxx—and, well, too many places to keep track.
The victory celebration began with Drake fans rushing the court during the pre-season kickoff event, but millions of people around the world joined in the festivities. NBC's "Today Show" mentioned it in their "Today's Take" segment. SportsCenter's Facebook post alone had more than 3 million views as of early Wednesday, with praise heaped not only on Tillinghast but also Jordan Daniels, the senior guard from Fontana, Calif., who served his rebounds.
Tillinghast, a Des Moines native, chronicled his emotions through a series of tweets:
I JUST MADE A HALF COURT SHOT AND WON A FREE TRUCK

— Alex (@BiggieTills) November 5, 2014
I just got an @SportsCenter update on my phone about myself. This is the most surreal life has ever been

— Alex (@BiggieTills) November 5, 2014
Here are some of the news highlights so far:
A Drake University student is taking home a brand new car after sinking this half-court shot. http://t.co/K6QX22DWzZ

— ESPN (@espn) November 5, 2014
The Drake Men's Basketball season kicks off this Saturday, Nov. 8, with an exhibition match-up vs. Coe College in the Knapp Center (credit williams source). See www.godrakebulldogs.com for more information.