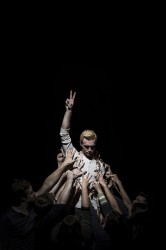 The Drake University Department of Theatre Arts will present a contemporary spin on the rock opera musical "Jesus Christ Superstar" with music by Andrew Lloyd Webber and lyrics by Tim Rice. The show will run at 7:30 p.m. Thursday, Nov. 13 through Saturday, Nov. 15, and at 2 p.m. Sunday, Nov 16, in the Performing Arts Hall of the Harmon Fine Arts Center.
Though the musical is well-known, this isn't your typical "Jesus Christ Superstar," says John Graham, director and assistant professor of the second theatre arts.
"The cast and I are working hard to make this story relevant for people living in the world today," said Graham. "You won't see a Jesus with hair down to his waist dressed in white robes, this is a contemporary show for a modern audience."
Dane Van Brocklin, a senior musical theatre major, will play the role of Jesus. "The experience of working on this show has been very different for all of us actors," said Van Brocklin. "The approach has been much more focused on the relationships between characters and the emotions and motivations that drive each action in the show so that we really tell the story."
Van Brocklin hopes that audiences will come to the show with an open mind and that the production will encourage the viewers to think more deeply about each of the characters' actions in the historic story.
"I want people to leave questioning the fairytale-good vs. evil theme that is so often associated with this story," Van Brocklin said.
The rock opera features Jesus at its center as a social and political rebel. As his radical teachings are embraced, Judas increasingly questions the enlightened motives of this new prophet, resulting in his betrayal. Christ's final days are displayed with emotional intensity and thought-provoking edge.
"We are creating our own world with this show and inviting the audience in to enjoy," said Graham. "We invite and encourage our audience to join us and dance and sing along with us."
Admission is $6 for adults and $4 for students, senior citizens and those with a Drake I.D. Tickets are available at the Fine Arts Center Box Office. Reservations are recommended and may be made in person or by calling 515-271-3841.
Get a first look at the cast in this "Jesus Christ Superstar" promotional video produced by students.