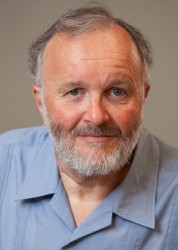 A retired U.S. diplomat and United Nations peacekeeper will discuss the UN's role in peacekeeping next week. Gerard Gallucci will present "Keeping the Peace in the 21st Century," a free public lecture at 7 p.m. Thursday, Nov. 6, in Sussman Theater, Drake University's Olmsted Center, 2875 University Ave.
During his career, Gallucci was part of U.S. efforts to resolve the conflicts in Angola, South Africa and Sudan. He served as director for Inter-American Affairs at the National Security Council; as UN regional representative in Mitrovica, Kosovo; and as chief of Staff for the UN mission in East Timor. During the 2013-14 school year, Gallucci was diplomat-in-residence at Drake University. He now works as an independent consultant in Washington, D.C.
This event is sponsored by Principal Financial Group Center for Global Citizenship as part of its Fall 2014 Speaker Series. The Center educates students to function effectively in different cultural contexts, and to see their own culture from the perspective of others. The Center also works to ensure that global perspectives and issues are an integral part of the intellectual and cultural experience of all members of the Drake community.
For more information, contact David Skidmore, david.skidmore@drake.edu, 515-306-7164.