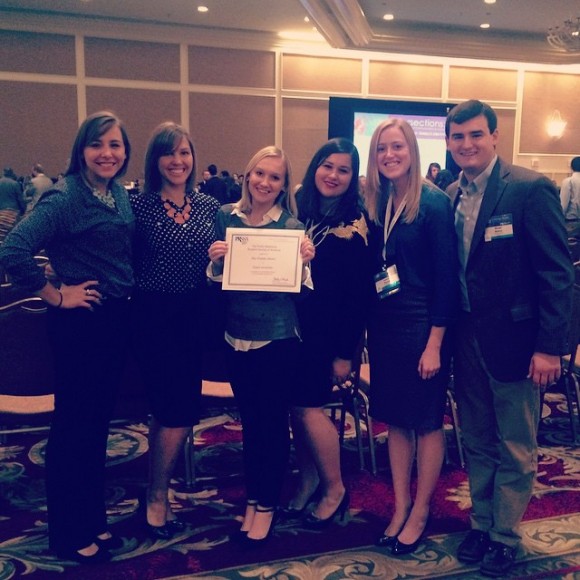 Drake in D.C.
The PR sequence had a productive fall break in Washington, D.C., at the Public Relations Student Society of America (PRSSA) and Public Relations Society of America (PRSA) conferences.
Drake PRSSA members were invited to present to the International Conference, sharing insights on chapter management and development.
Drake was also awarded the coveted "Star Chapter Award" at the conference.
While in D.C., students were able to promote the upcoming PRSSA Regional Conference, which will be held in Des Moines in April 2015. Drake PRSSA was awarded the conference hosting opportunity as one of just 10 such chapters in the country.
Drake was officially awarded Certification in Education for Public Relations (CEPR) recognition as part of the PRSA conference. Drake's PR program is now one of 36 undergraduate programs in the world to be so honored.
Also in Washington, Drake PR faculty members were invited to present research posters to conference attendees as members of the PRSA Educators' Academy.
Drake faculty and students also welcomed Washington, D.C., area alumni to a celebration of Drake's SJMC in the heart of the District.
Des Moines is the place to be
SJMC alum and National Journal reporter Matt Vasilogambros is one of the hosts of a town hall meeting beginning at 9 a.m. on Wednesday, October 22 in Parents Hall of the Olmsted Center. "The Next America: Population 2043" will address the nation's changing demographics. Matt V. is writing a series of articles for the Journal about Des Moines as a case study in how America is changing. His latest article describes how the city has become a great place for creative young professionals.
Explore your global opportunities
Scholarships are available for students interested in study abroad, including JMC 133 International Advertising, the SJMC May Term class that is traveling to Poland, Germany and the Czech Republic. Information about University scholarship is here. Deadline is Wednesday, Oct. 22. Some financial help is also available specifically for students enrolled in JMC 133; applications can be picked up outside Carla's office, Mer. 119. Deadline for that scholarship is Oct. 31.
J Council 2014-2015
The J Council is a group of students who meet with the SJMC dean occasionally through the school year to help plan events, provide input on School initiatives and feedback on student issues. This year's J Council members are: Angela Rogers (SJMC student senator), Courtney Fishman, Stephanie Kocer, Laura Plumb, Phong Duong, Amanda Horvath, Mariah Lewis and Linley Sanders. Contact any of them with ideas or concerns.