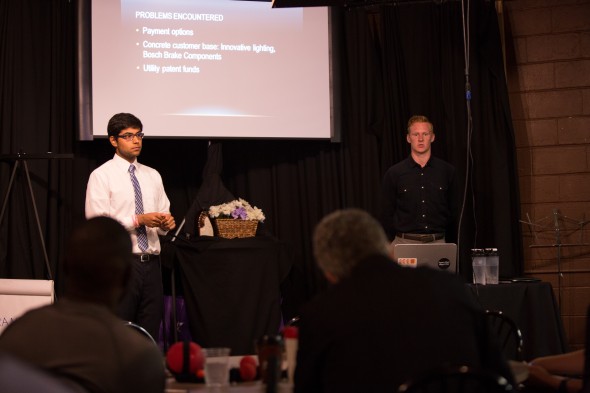 Four groups of Drake University students who received funding for startup businesses through the Lorentzen Student Hatchery last spring will present final updates on their ventures, which include a new brake light system for cars, a series of sports clinics for inner-city youth, an innovative training device targeted at martial arts fighters, and a custom-painted specialty bike sales business.
John C. Lorentzen, a 1977 Drake alumnus and partner at Winston & Straw in Chicago, proposed and funded an innovative program where Drake students kick-started their own businesses through the Hatchery, which is in its inaugural year at Drake. Lorentzen and a panel of local professionals will hear final progress reports on the promising projects from 9 to 11 a.m. Friday, Oct. 3, in Sussman Theater in Drake University's Olmsted Center.
Students have worked since June with office space at StartupCity in Des Moines and guidance from the Hatchery's program director, Geoff Wood; Tom Swartwood, assistant Director of Drake's Entrepreneurship Centers; and other local entrepreneurs and professionals. The teams created LLCs and a nonprofit venture, raised funds, generated sales, signed product development agreements, pursued patent applications, and more.
"Mr. Lorentzen proposed and funded this program specifically to help launch students into real businesses," said Swartwood, who teaches as assistant professor of practice in entrepreneurship. "There was no classroom here—this is not an academic exercise. This is real-world learning through direct experience, and the results are extremely impressive."
Lorentzen's commitment supported students' housing costs, legal and organizational expenses, and other startup costs, allowing the students to focus their time and effort on refining and implementing their business models. The financial contribution has enabled the students to develop sustainable businesses and will provide at least another two years of support for the unique Hatchery program.
The student businesses include:
AP Lumina (Naren Bhojwani and Benjamin Mullis). An automotive brake light system—a group of moving, intensifying LED lights controlled by a sensor underneath the brake of a car to help determine how hard the driver is pressing the brake pedal.
Reflex Fight Gear (Kevin Clark). Markets unique sports training equipment and apparel targeted at martial arts fighters and other fitness athletes.
Opportunity on Deck (Dylan DeClerck). A non-profit organized for the purpose of providing low-income elementary school students in Des Moines with opportunities to participate in free organized baseball and basketball leagues. www.facebook.com/opportunityondeck
Frank's Fixies (Aaron Hermsen and Joaquin Valdes). specializes in fixed gear bicycles, offering affordable, custom-painted bikes and promoting events attractive to the bike community. www.franksfixies.com
As the first generation of Hatchery alumni continue to advance their new businesses, the Hatchery will accept a new wave of applications for next year's program. Applications will be available at the Oct. 3 event, and students chosen to pitch their ideas in person will be notified in November.