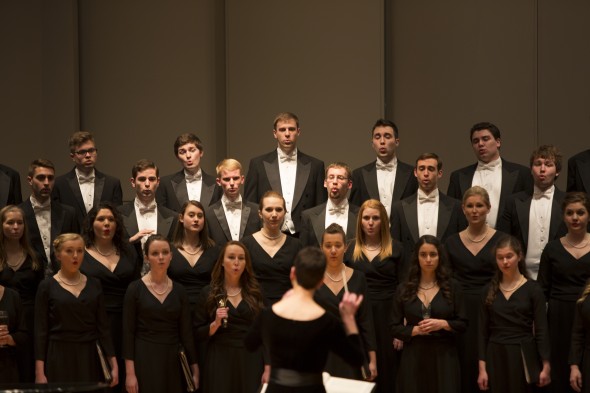 Drake's three select choral ensembles will launch their 2014–2015 performance season Sunday, Oct. 5, with a free concert that celebrates life's joys and struggles. The concert, "For most this amazing day," will feature the Drake Choir, the Chamber Choir, and Drake Chorale, and will begin at 3 p.m. in Sheslow Auditorium, 2875 University Ave.
The concert's title is taken from a poem by E. E. Cummings, and the Drake Chamber Choir will sing a piece set to the text. Additionally, the concert will feature music by contemporary American composers, as well as Canadian and American folksongs, and works by Brahms, Bach, and Mendelssohn.
The Drake Choir and Chamber Choir are conducted by Aimee Beckmann-Collier, and the Drake Chorale is conducted by Linda Vanderpool.
This concert is free and open to the public. For more information, contact Aimee Beckmann-Collier at aimee.beckmann-collier@drake.edu or 515-271-2841.