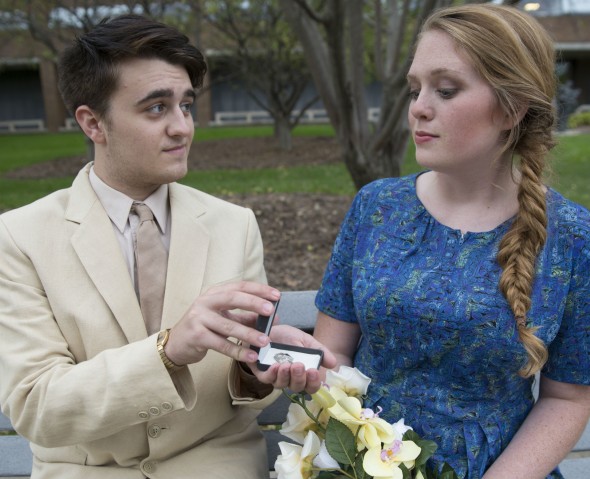 Drake University's department of theatre arts will present "Square One" by Steve Tesich beginning Thursday, Oct. 2 in the Studio Theatre of the Harmon Fine Arts Center. Performances will start at 7:30 p.m. on Oct. 2–4 and 2 p.m. on Sunday, Oct. 5.
"Tesich is an interesting man," says Michael Rothmayer, associate professor of theatre arts and the director, who chose this show after writing his doctoral dissertation on Tesich. "He emigrated from the former Yugoslavia with a real love for America and all of its opportunities. Toward the end of his life he became disillusioned when he realized America wasn't living up to the promise it had made to itself and the rest of the world."
In "Square One," Adam and Diane are a young couple living in a future era of reconstruction. Adam happily plays his role as a performer in this futuristic society, while Diane is determined to maintain a piece of her own personality in a world of total regulation. While the play is full of foreboding elements, it does not lack light and humorous moments.
Rothmayer encourages audience members to attend the show with an open mind.
"It's a dark comedy meant to serve as a cautionary tale," he says. "And I hope people leave the show speculating just how far removed the play's world is from our world today."
Admission is $5 for adults, $3 for students and senior citizens, and $1 for those with a Drake ID. Tickets are available at the Fine Arts Center Box Office. Reservations, which are recommended, may be made in person or by calling 515-271-3841.