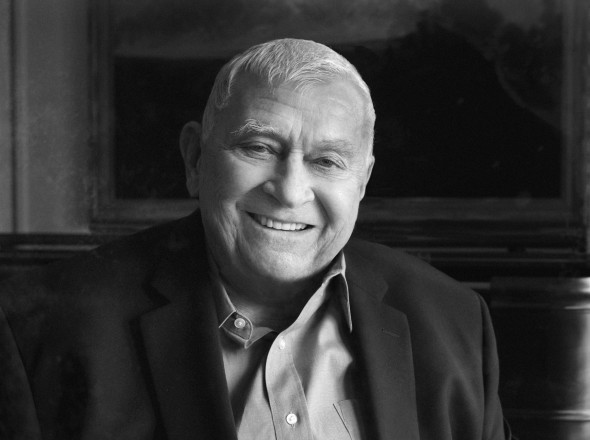 One of Drake University's most beloved benefactors, Morgan E. Cline, PH'53, passed away unexpectedly at his home earlier this year on April 20.
Cline, a noted philanthropist, entrepreneur, and advertising executive, was a longtime supporter of Drake University's College of Pharmacy and Health Sciences. He graduated from Drake with honors in 1953 and went on to serve as pharmacist in the U.S. Army. Within a decade, Cline became one of the founders of Cline, Davis & Mann—a New York-based advertising agency specializing in pharmaceuticals.
Throughout his career, Cline remained close to Drake as a proud alumnus, serving on the Drake University Board of Trustees and endowing a scholarship fund for pharmacy students with a $5 million gift in 2001.
In 2012, Cline provided a lead gift of $3 million to distinctlyDrake to create a two-story atrium between Harvey Ingham Hall and Cline Hall of Pharmacy and Health Science. In 2013, CPHS unveiled the new facility, which includes a student learning commons, faculty offices, and an experiential learning suite.
"Morgan's passion for student financial support and communication skills development will continue to live on through his legacy gifts," says Wendy Duncan, dean of Drake's College of Pharmacy and Health Sciences. "His support of pharmacy students through the creation of scholarships assists with the increasing costs of pursuing their dream of becoming a pharmacist, while the learning commons provides a place where students can interact with each other and develop crucial teamwork and communication skills."