We rock!
The College Media Association announced that Drake Magazine is a Pinnacle Award finalist for Best Website and Four-Year Feature Magazine of the Year.
Finalists are announced in various categories over two weeks. The winners will be announced at the 93rd Annual ACP/CMA National College Media Convention, Oct. 29-Nov. 2, 2014, in Philadelphia, Pa.
What we're up to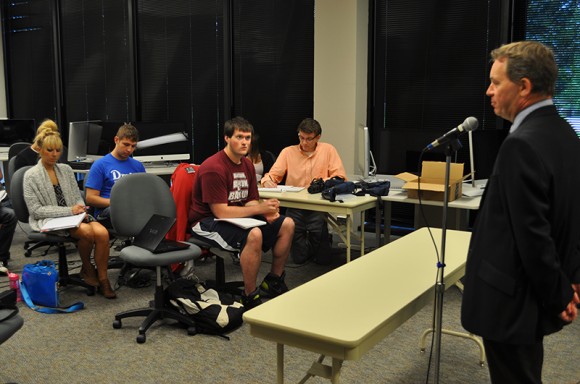 Professor Jill Van Wyke's JMC 73/103 Radio News Reporting and Public Affairs Reporting class got a taste of Scotland last week. Van Wyke invited Scottish Law Professor Derek Wilson to speak at a press conference for her class. Students worked with iRig kits and Zoom recorders to record the press conference. Each student used their audio to create a text story and an audio story, regarding the upcoming vote on the Scottish referendum. Wilson is an expert on secessionist movements. He is visiting the Drake Law School this semester.
Van Wyke's students also covered the Harkin Steak Fry in Indianola on Sunday. Here are a couple photos: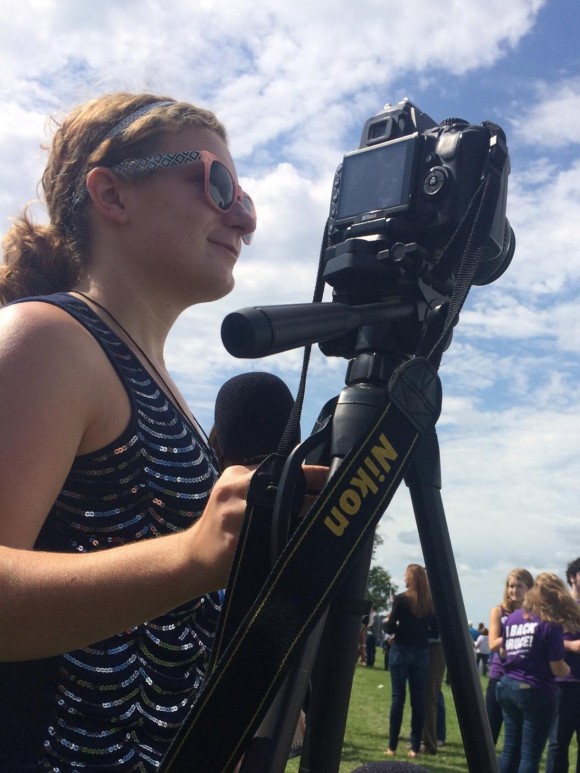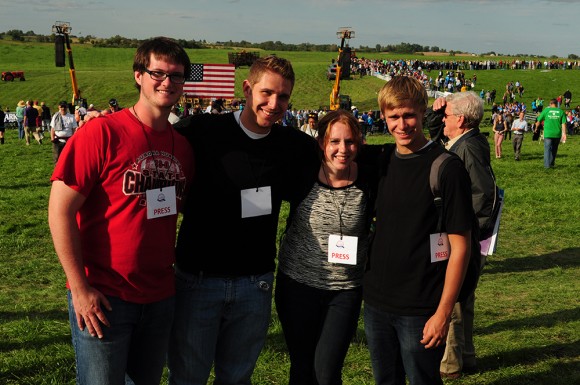 JMC 129 Account Management students visited Oakridge Neighborhood Services to gather facts about their annual fundraiser, Jazz, Jewels & Jeans. The fundraiser started about four years ago and the organization needed outside opinions regarding what was being promoted well and what needed a new approach. The class worked through several iterations of brainstorming and planning, resulting in a list of six major items Oakridge needs to address. Administrators are very excited about the opportunity to improve their advertising and social media presence, and communicate in better ways, based on the student input.
Students in Professor Jeff Inman's JMC 91 Magazine Freelance Writing class will be partnering with the Des Moines Music Coalition to provide Q&A blog content to promote the DMMC's upcoming Music University conference Oct. 4-5, 2014 at Drake University. The Students will be interviewing some of the event panelist and, if they're good enough, they will be published on the DMMC's blog.
Give us a follow
The Drake SJMC is now on Instagram as @DrakeJMC. Follow us to see what our students are up to in Meredith Hall and beyond.
Get going
"Valuable Facets: Diaspora in American Society" a panel discussion during International Diaspora Week will be held Wednesday, Oct. 15, 7 p.m. in Meredith 101. The panel features Special Projects Manager Leslie Olson from Oakridge Neighborhood Services, who will be accompanied by an Oakridge refugee/resident, along with SJMC Associate Professor Dorothy Pisarski, herself a product of the Polish diaspora in New York City.
Jobs hub
The SJMC's internship coordinator, Carlyn Crowe, reports that there are some great paid internships still available for this fall. See Carlyn in Mer. 120 or check out the Drake Media Gigs site for listings.