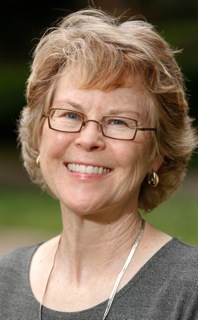 Kathleen Richardson, director of the School of Journalism and Mass Communication (SJMC) at Drake University, has been promoted to dean effective immediately.
"Kathleen brings a history of professional service to the School of Journalism and Mass Communication, a vision for moving forward with a digital media focus, and a keen sense of the Drake culture," said Provost Deneese Jones. "She is a student-centered administrator with a wealth of practical experiences that will serve the school well."
Richardson earned her bachelor's and master's degrees from Drake's SJMC and her Juris Doctor from Drake University Law School. Since 1997, Richardson has been teaching journalism courses at Drake and was appointed director of the SJMC in 2007.
Prior to teaching at Drake, Richardson worked at The Des Moines Register for 20 years in a variety of roles, including copy editor and copy desk chief, wire editor, news editor, features editor, book reviewer and columnist. She is also the executive director of the Iowa Freedom of Information Council, a nonprofit organization that is devoted to open government issues.
Richardson is known for being a passionate and visionary leader, most recently leading a curriculum review that maintains the SJMC's emphasis on the basics of good writing, research, and strategic thinking, while adding classes in financial literacy and emerging and evolving media. The school will offer a new strategic political communication major next fall, as well as magazine media, advertising, digital media production, news, and public relations programs that help to meet the changing needs of the communications industry. Seniors from all academic majors within SJMC will produce and promote a pioneering web-based multimedia news and lifestyle publication as a final capstone project.
Drake students are nationally recognized for their work inside and outside of class. For example, Drake journalism students took home the most awards of any school at the 2014 Association for Education in Journalism and Mass Communication's Student Magazine Contest this summer. Drake's apprenticeship program with Meredith Corp. is considered the gold standard in experiential education.
"This is a very exciting time to be the dean of a school of journalism and mass communication," Richardson said. "There are a wealth of career opportunities for young people who have the right skills and are prepared to embrace change.
"At Drake, we take to heart our mission to not only prepare our students to be leaders in the communications industry, but also to be an incubator for innovation. For years, our students have been producing digital magazines and mobile apps, designing cutting-edge websites and video productions, and experimenting with the latest technology. We really are at the forefront of journalism education, and I consider this opportunity to serve as dean as a wonderful recognition by the University of all the good work that we are doing here."
Richardson succeeds Charles Edwards, who served as dean of the School of Journalism and Mass Communication as well as the College of Business and Public Administration until his retirement in May 2014.