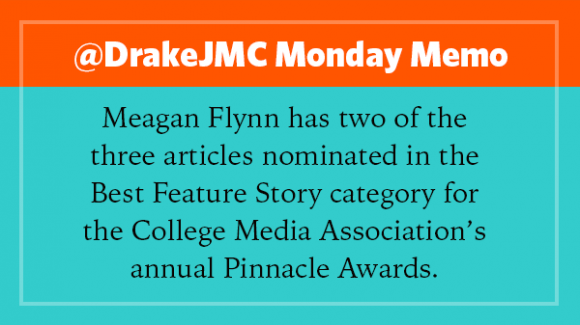 Welcome to the Monday Memo, a celebration of all things SJMC. If you have news to share, send it to Director Kathleen Richardson at kathleen.richardson@drake.edu or Carla McCrea at carla.mccrea@drake.edu to include in a future Memo.
We rock!
Drake has three finalists in the College Media Association's annual Pinnacle Awards. Winners will be announced at the national CMA convention Oct. 29-Nov. 2 in Philadelphia. Meagan Flynn has two of the three articles nominated in the Best Feature Story category: "City Limits" from the senior capstone digital magazine Urban Plains, and "Road to Awareness" from Drake Magazine. SJMC alum Jeff Nelson is also a finalist for Best Entertainment Story for a piece in Urban Plains.
Heads-up
Remember that the last day to drop a class without a W is Monday, Sept. 8, with a paper drop/add form delivered to Carla's office (Mer. 119).
Get going
The SJMC dean's office is looking for a few good students to work up to 10 hours a week in the Carla's office. Job responsibilities could include helping Carla with administrative duties; helping with student recruitment; helping with SJMC social media outreach to students and prospective students; helping produce electronic newsletters for alumni and area professionals; designing posters, programs and other materials for SJMC events, and taking photos and video of student activities and events for use on the SJMC website and promotional materials.Successful applicants will be able to work creatively and independently. Knowledge of any or all of the following is desired: design and design software, web design, social media strategies, digital photography and video. Students should be eligible for work-study. Interested students should submit a resume that describes their skills and includes (if possible) Drake faculty or staff references to Carla in Mer. 119.
The Times-Delphic is moving to a once-a-week print publication and plans to enhance its digital presence this year. The print edition will be published on Wednesdays, but readers can expect timely coverage of the campus throughout the week at timesdelphic.com and on Twitter, at @timesdelphic. The first print edition of the semester will be available at locations across campus this Wednesday, Sept. 3.
Below are the leaders of Drake media-related organizations this year. They'd love to hear what you can contribute to their award-winning publications, projects and activities:
Phong Duong, Ad Club
Courtney Fishman, The Times-Delphic
Amanda Horvath, Drake Broadcasting System
Stephanie Kocer, Society of Professional Journalists
Mariah Lewis, KDRA-FM "The Dog"
Linley Sanders, Drake Magazine
The SJMC student senator for 2014-15 is Angela Rogers.
The SJMC Activities Fair will be held on Wednesday, Sept. 10, 4-7 p.m. in Mer. 104. Representatives from SJMC student organizations will be available to talk about opportunities to get involved in student media and professional associations.
SJMC student organizations interested in posting meetings and events to the Monday Memo should submit W-W-W-W-W-H information to Director Kathleen Richardson at kathleen.richardson@drake.edu the week before the event.
Jobs hub 
If you haven't had the opportunity to meet the SJMC's internship coordinator, Carlyn Crowe, stop by her office (Mer. 120) to make that connection. She would love to meet you and share some of the career development resources available. 
Remember to visit the Drake Media Gigs blog for the latest internship opportunities and other career development news throughout the year.