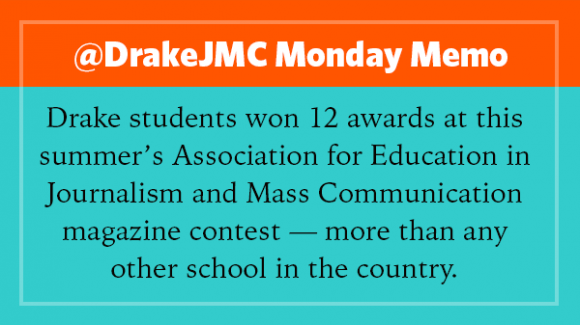 Welcome to the new Monday Memo, your guide to who, what, where, when, why and how in the SJMC. Stay tuned throughout the semester for news that you can use to get involved, stay up-to-date and celebrate the great things going on in the School. And if you have news to share, send it to Director Kathleen Richardson at kathleen.richardson@drake.edu to include in a future Memo.
We rock!
While you were away . . .
SJMC students were the big winners in this summer's Association for Education in Journalism and Mass Communication magazine contest. Drake students won 12 awards — more than any other school in the country — including four first-place prizes. The spring 2014 issue of Think was honored for general excellence. Its website was also recognized, along with think-mag.com and drakemagazine.com. Meagan Flynn received two first-place awards, one third-place and an honorable mention for her reporting and writing. In the startup magazine category, Hali Ortega won first place, Kayli Kunkel finished second and Selchia Cain received honorable mention. Kelsey Johnson's writing also received an honorable mention, as did the design of The Annual.
Students in the Master of Communication Leadership research class won a Bronze Quill award in June from the Iowa Association of Business Communicators for their research and data analysis for Des Moines' World Food and Music Festival. Taylor Larson, Laura Plumb, Bob Griffith and Olivia O'Hea won IABC awards for projects they did in their public relations classes.
Heads-up
A reminder from Carla McCrea: You must attend the first class meeting or you'll be dropped from the course. Last day to add a class is Friday, Aug. 29. Last day to drop is Monday, Sept. 8, with a paper drop/add form delivered to Carla's office (Mer. 119).
There are two ways to find the name of your advisor.
Login to MYDUSIS – click on Student Records – click on View Student Information. Your primary advisor should be listed there.
A list is posted outside Carla's office room 119.
Get going
The SJMC Activities Fair will be held on Wednesday, Sept. 10, 4-7 p.m. in Mer. 104. Representatives from SJMC student organizations will be available to talk about opportunities to get involved in student media and professional associations.
SJMC student organizations interested in posting meetings and events to the Monday Memo should submit W-W-W-W-W-H information to Director Kathleen Richardson at kathleen.richardson@drake.edu the week before the event.
Jobs hub
Remember to subscribe to the Drake Media Gigs blog for the latest internship opportunities and other career development news throughout the year.