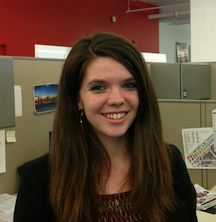 From an early age, Meagan Flynn had her heart set on pursuing a career in magazine writing. And after a brief conversation with David Wright, associate professor of journalism, she knew Drake was the place.
"I asked Professor Wright to convince me to go to Drake in 30 seconds," says Flynn, now a senior from Huntley, Illinois, studying magazine journalism and writing. "And he just started fanning out all the student made publications—I was sold right there."
Drake is known for providing its students with an abundance of hands-on opportunities. Flynn's experience has been no different. As a magazine student, Flynn has dabbled in many aspects of communications, including website development and writing for print. She hopes to gain experience in tablet production as well.
Her most recent work landed her two first-place awards from the 2014 Association for Education in Journalism and Mass Communication (AEJMC) Magazine Contest. Judged by media professionals and sponsored by the AEJMC, the contest featured 270 entries from 28 universities. Seventeen schools won awards, and Drake led the competition with 12 awards.
Flynn's winning article, "City Limits," sheds light on the life of 80-year-old Elsie, the sole resident of Monowi, Nebraska. Flynn made two trips to the tiny town to get inside the story, which includes a look at the fate of small-town America.
The story originated from a Reddit post that Flynn's roommate came across—a picture of a person standing in front of a population sign: Monowi, 1.
"Meagan's piece is a great example of what good journalism can do: tell the story of one person, but connect that story to an issue that impacts us all in one way or another," says Jeff Inman, assistant professor of journalism, who guided production of the issue of Urban Plains magazine that featured the article.
Flynn spent her summer interning at New York Magazine, where she's had the opportunity to serve as the assistant to the editor and network with other professionals.
"Figuring out what to do with your life can be daunting, but I can't imagine being anywhere else or pursuing any other career," says Flynn. "I'm lucky to have faculty who are willing to listen to my bottomless list of questions—they are very patient people. Fantastic people!"