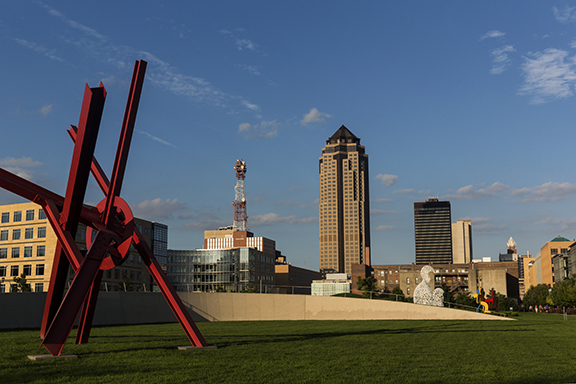 Drake's hometown of Des Moines, Iowa, has once again been named the No. 1 city in the U.S. for young professionals.
Des Moines nabbed Forbes' No. 1 spot in 2011, when the magazine first launched its list, and snagged the top position again this summer. Forbes lauded Des Moines' educated labor force, vibrant environment for small businesses and large companies, and low unemployment rate, among other factors.
The new distinction compounds myriad other recent accolades—including "Best Place for Business and Careers," "Best City for Families," and "Wealthiest City in America"—that reflect an inviting professional setting for Drake alumni, approximately two-thirds of whom remain in Iowa after donning their caps and gowns. 97.6 percent of Drake's class of 2013 were employed full-time or entered graduate school within six months of graduation.
Drake's spring issue of Blue Magazine explored the myriad relationships that help make Des Moines a nationally-recognized city, including its intrinsic link between Drake and the Des Moines area. Drake Blue sat down with two leaders of The Greater Des Moines Partnership to discuss the region's distinctiveness, its changing landscape, and its future leadership needs.
Drake offers more than 70 undergraduate majors and 20 master's, doctoral, and professional degree programs that give students a powerful edge in the job market—in Des Moines, in the U.S., and worldwide—as well as prepares young learners for meaningful personal lives and responsible global citizenship.
New to Des Moines, or thinking about visiting? Explore life in Iowa's capital city and follow this blog for a collection of photos of Drake & Des Moines.