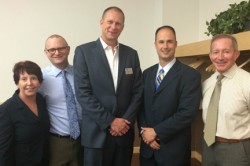 Education Leadership faculty from the School of Education hosted a symposium entitled, "The Leader's Role in Implementing Standards-Based Grading" on June 18.
As educators align instruction and assessments with the Common Core standards for student learning, most find they also must change their grading policies and revise their report card. This symposium focused on how to develop new standards-based grading policies and practices that are better for ALL students, how to gain the support of parents, and how to avoid excessive work for teachers.
The symposium featured Dr. Thomas Guskey. Thomas R. Guskey is professor of educational psychology at the University of Kentucky. In his work with educators throughout the world, he helps bring clarity and resolution to some of education's most challenging problems. A graduate of the University of Chicago, he began his career as a middle school teacher, served as an administrator in Chicago Public Schools, and was the first director of the Center for the Improvement of Teaching and Learning, a national educational research center. Guskey served on the policy research team of the National Commission on Teaching & America's Future, on the task force to develop the National Standards for Staff Development, and was recently named a fellow in the American Educational Research Association—one of the Association's highest honors. He is the author/editor of 20 award-winning books and more than 200 book chapters and articles that have appeared in prominent research journals as well as Educational Leadership, Kappan, and School Administrator. He co-edited the "Experts in Assessment" series for Corwin Press and was featured on the National Public Radio programs Talk of the Nation and Morning Edition.
Each participant received a copy of Dr. Guskey's book, "Developing Standards-Based Report Cards."