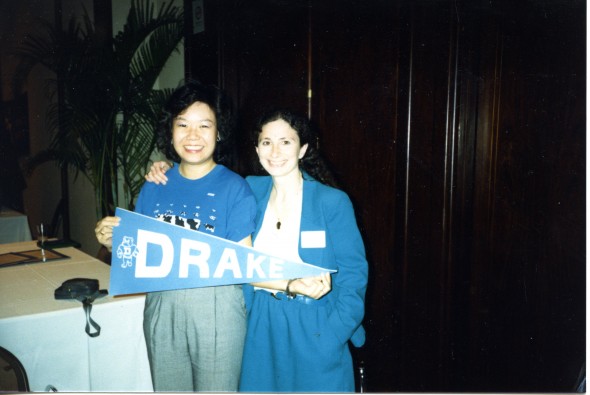 For many high school seniors, the college search process begins with a series of campus visits. But 9,000 miles is a long distance to travel for a tour. Nicholas Raj Jayamany, BN'09, GR'11, knew he'd have to choose an American university from afar.
The Malaysian native's decision centered on careful consideration of factors like academic reputation, financial aid, and student life—and was secured by a conversation with Leslie Mamoorian, Drake's associate director of international and graduate admission.
"Leslie was one of only a few counselors who made the trip to talk to us, and it really did help us understand Drake better," says Raj. "Given the time it took to get here, we really did appreciate it and knew we'd be welcomed with open arms at Drake."
Raj's story will be familiar to many international students, particularly fellow alumni from Malaysia. The Southeast Asian country has steadily developed into Drake's most consistent pipeline for international students. Much of that growth can be attributed to Mamoorian, who calls Malaysia her second home after visiting the country annually for more than 20 years.
"Leslie has been the connection to Malaysia for 25 or 30 years," says Tom Delahunt, vice president for admission and student financial planning. "She has helped solidify Drake's commitment to an area of the world that has sent many, many students to our campus."
Mamoorian usually spends one week a year in Malaysia as a stop in a lengthier tour of Asia. This fall, she will stay for two months in a focused effort to broaden admission efforts and reconnect regional alumni with their alma mater.
"I'll have a chance to visit more high schools, create more meaningful relationships with counselors and prospective students, and connect with alumni," says Mamoorian. "And if I need to fly to Singapore, Indonesia, India, or China, it'll be more cost-effective for Drake. There are so many opportunities."
Last year Drake's student body included 339 international students from 46 countries. Nearly half of those students hailed from Malaysia. Drake's distinction as a Society of Actuaries Center of Actuarial Excellence—a designation held by only a small handful of U.S. colleges and universities—has traditionally been a primary attraction for Malaysian students. Mamoorian hopes Drake can leverage the University's existing reputation to enhance awareness of other fields of study, a need to which alumni can attest.
"I have come across a few people who have heard of Drake, but our reputation is not well known unless you are an actuarial science major in an insurance company," says Raj. "It would be great to expand our presence here in Malaysia and get alumni involved in local recruitment."
International alumni stay connected with Drake through social media, e-mail correspondence, and electronic newsletters. Many use Facebook to connect with classmates, and some circles of friends make a point of meeting in person.
"I am still in contact with close Malaysian friends and meet some of them at least every two months," says Sivabalan Rajakulanayakan, BN'10, product manager at Standard Chartered Bank Malaysia. "But Drake could do more to encourage engagement and association among alumni."
Mamoorian's extended stay in Malaysia could become a model for future international outreach. "Drake wants to be a stronger global player, and this is our chance," says Delahunt. "We have the right person in place, we have the pipeline into key recruitment areas, and now is the time to demonstrate our deep and continued commitment to our international students and alumni."