The 2013–2014 academic year closed with major announcements for the Drake University Law School. Dean Allan Vestal announced that he will resign his position effective June 30, 2014. After taking sabbatical for a year, Vestal plans to return to a faculty position in fall 2015.
Additionally, after 38 years of dedicated service to the law school, Russ Lovell, professor of law, announced his retirement.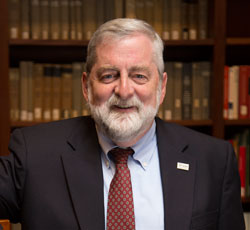 Allan Vestal
Vestal joined Drake in June 2009. He received both his bachelor's degree and his law degree from Yale University and is a member of the American Law Institute. He is the author or co-author of more than 30 law review articles and several books and book chapters, primarily in the area of unincorporated business associations. Vestal recruited a talented cohort of new faculty while developing LL.M. and M.J. programs that broaden the school's scope. Prior to arriving at Drake, Vestal served as dean and professor of law of the University of Kentucky College of Law.
"I would like to thank Allan for his service to Drake over the last five years," says Drake University Provost Deneese Jones. "His leadership has led to significant renovations at Cartwright Hall, the establishment of new clinical programs that serve the community, and increased faculty publication."
Benjamin B. Ullem has been appointed interim dean of Drake Law School beginning July 1, 2014 and continuing through June 30, 2016. Ullem graduated from Drake in 1966 and from Drake Law School in 1969. He will be taking a leave of absence from his current position as a member of Drake University Board of Trustees, where he has served since 1989. He previously served as interim dean of the law school in 2008–2009.
A national search for a new dean will commence in August 2015.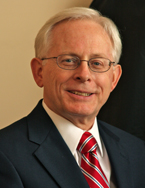 Russ Lovell
Lovell joined the Drake faculty in 1976, after working at the Legal Services of Indianapolis and the Indiana Center on Law & Poverty. He is known for his unflagging energy and innovation.
Throughout his tenure, Lovell served as associate dean twice and spent years developing programs to benefit law students and the community as director of clinical programs. He has had a career-long association with the NAACP, for which he has been honored repeatedly.
"Russ Lovell's impact on Drake has been, and will continue to be, long lasting. The innovative First Year Trial Practicum he developed provides Drake students with a trial experience that no other law school offers," says John Edwards, associate dean for information resources and technology, and professor of law. "His tireless work in multiple stints as associate dean and in serving as clinic director shows how willing Russ is to undertake challenging jobs when the law school needed him to do so."
Lovell's colleagues say he has been a consistent voice for public service and is a powerful example of how an individual lawyer can make a difference.
"His commitment to public service helped instill that spirit in others, whether students pursued it as a vocation or participated in projects to make our community a better place," Edwards continues. "Through his work on so many fronts, Russ has made Drake and Des Moines a much better place."