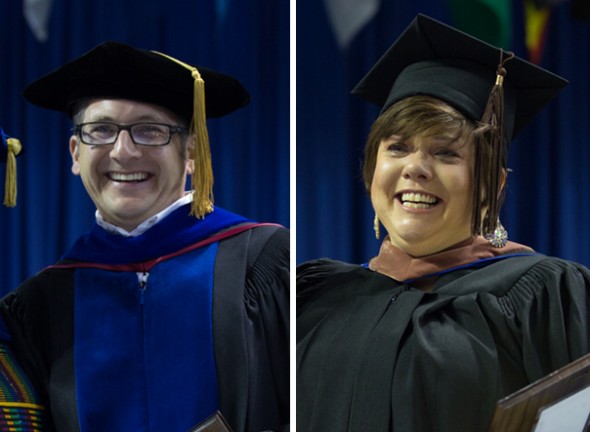 Drake University faculty members Karla Kash and Craig Owens received Drake's highest honors for teachers and mentors—the prestigious Madelyn M. Levitt Awards—at the University's undergraduate commencement ceremony on Sunday, May 18.
The late Madelyn Levitt, longtime Drake trustee and honorary alumna, established the awards in 1994 to recognize faculty and staff for their commitment to academic excellence and student success. The honorees embody Madelyn Levitt's commitment to Drake and her interest in faculty achievement.
Karla Kash, 2014 Madelyn M. Levitt Mentor of the Year
The Mentor of the Year award was established to recognize faculty and staff who are committed to student success in and out of the classroom. Karla Kash, associate professor of theatre arts, was described by her nominators as someone who provides life-changing advice and encourages diverse dialogue.
"I have been blessed with many incredible experiences as a theatre artist and educator and this award is my personal highest honor," says Kash. "My methods are not always tender, as I like to say, I am very hard on my students because I care.
Everyday I wake up and ask for the will to lay my ego aside and make every decision focused on the students. My end goals are to teach students how to work professionally, cultivate and maintain happiness, and be contributing members of society. Receiving this award is the ultimate affirmation of the success of my students."
Alumni also praise Kash as a mentor. One graduate nominator said:
"Thanks to Professor Kash's assistance three years after graduation, I will be going to study for free at one of the best classical institutions in the world. I expected a degree from Drake, but what I got was an immensely knowledgeable and powerful ally who never wanted anything but the best for me. I cannot express enough how much she has contributed to my performing life and life in general."
Craig Owens, 2014 Madelyn M. Levitt Teacher of the Year
The Teacher of the Year award was established to recognize faculty who exhibit an informed mind in inspirational dialogue with students, rigor in intellectual endeavors, and a contagious enthusiasm for their subject matter. Craig Owens, associate professor of English and director of the Humanities Center, was described by his nominators as: smart, funny, accessible, encouraging, challenging, and inspiring. By raising the level of discourse in his classes—and not by dominating the proceedings—Owens has been able to foster atmosphere of lively and unstifled discussion. A senior said this about Owens:
"Professor Owens is an amazing professor who has a true passion. He focuses on substance, application, and growth—really making you think and continue to think after his class is over."
Owens' colleagues also praised him, saying they find him to be valuable to their own development as teachers.
"Of course, it's very humbling and gratifying to have received this award. And, while it's always nice to have one's successes as a teacher acknowledged, the Levitt award is also something to live up to, a challenge for me continuously to improve, to reach toward higher and higher standards and expectations," says Owens. "I'm lucky to have had the chance to work with colleagues and students who have proven very supportive of my development as a teacher."